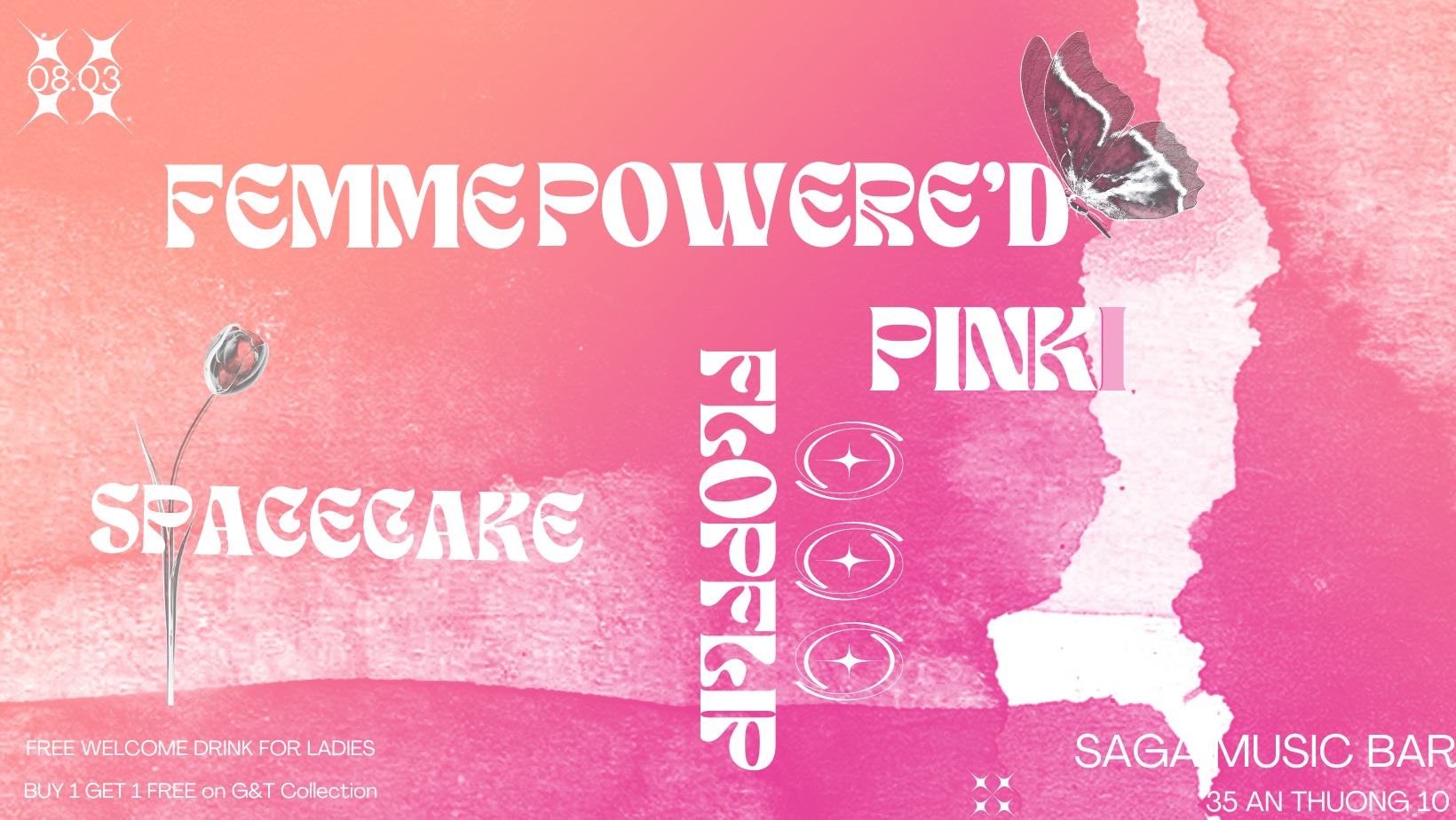 FEMMEPOWERE'D – International Women's Day Special
[ Tiếng Việt bên dưới ]
For this special occasion we will be celebrating all the bold, powerful, inspiring women out there, all the sisters, mothers, friends and lovers who make the world go round!
We have a line-up up of most talented, energetic and fierce female DJs out there, bringing an eclectic vibe to ensure an electrifying energy throughout the night:
PINKI
FlopFlip
Spacecake
All ladies will receive a complimentary drink on arrival, as well as a buy1 get 1 offer on all our Gin & Tonic collection all night long!
From 9PM until Late
Free Entry
———————————–
Nhân dịp đặc biệt này, chúng ta sẽ tôn vinh tất cả những người phụ nữ dũng cảm, mạnh mẽ, truyền cảm hứng ngoài kia, tất cả các chị em, các bà mẹ, bạn bè và những người yêu thương, những người đã làm nên một thế giới tròn trịa!
Chúng tôi có một đội hình gồm những nữ DJ tài năng, năng động và quyết liệt nhất hiện có, mang đến một bầu không khí đa dạng để đảm bảo tràn đầy năng lượng suốt đêm:
PINKI
FlopFlip
Spacecake
Tất cả các quý cô sẽ nhận được một đồ uống miễn phí khi đến, cũng như ưu đãi mua 1 tặng 1 cho tất cả bộ sưu tập Gin & Tonic của chúng tôi xuyên suốt đêm!
Từ 21:00 đến khuya
Vào cửa miễn phí
———————————–
SAGA – Neighbourhood Music Bar
𝐋𝐨𝐜𝐚𝐭𝐢𝐨𝐧: 35 𝐴𝑛 𝑇ℎ𝑢𝑜𝑛𝑔 10, 𝐷𝑎 𝑁𝑎𝑛𝑔 𝐶𝑖𝑡𝑦
𝐄𝐦𝐚𝐢𝐥: saga.danang35@gmail.com