These fascinating moments of SUP (standup paddle boarding) recorded by the #5PM team in the 2022 sea tourist season will make people go wild for the beauty of Da Nang – the most livable city in Vietnam.
SUP is a nice sports activity to take after hours of stressful work. It can also help players to have a healthy body and fit in shape.
In the coastal city Da Nang, SUP is often combined with other tourism activities and is usually held in the area of Han river, Van village, Hoa Trung lake, and Son Tra peninsula.
This sport requires the ability to stay balanced and muscle coordination between the arms, legs, waist, and hip. You can create a delightsome yoga space in the middle of nature by applying yoga movements on the board. It will be a challenge for the balance ability and how can you stay calm.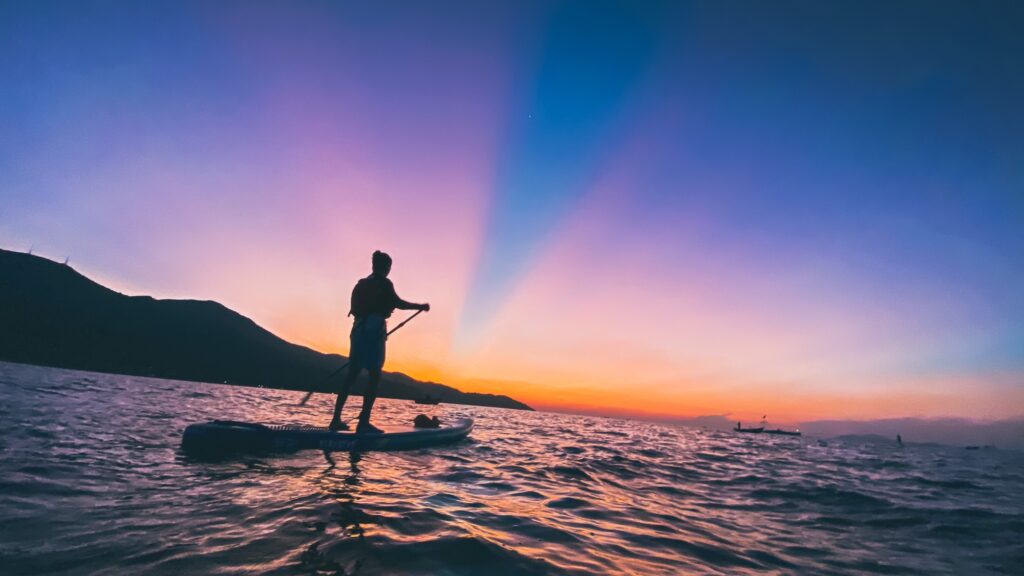 Although sounding easy, SUP is highly physically demanding. Doing SUP also increases the endurance of muscles.
Besides standing up and sitting down paddling, SUP allows players to kneel, lie down and relax, do yoga, fishing, as long as the board is still moving.
If you want to try this port, you can contact Da Nang Kayak Club or Da Nang SUP Lovers to share the experience with the prices ranging from 150k to 400k VND.
It's not just a simple water sport that brings major health benefits, SUP is also a great choice if you're a fan of discovery and want to save a memorable experience when being in nature.
SUP is quite a new water sport in Vietnam but it began to be more widely known by the young and started becoming popular in coastal cities in Vietnam.
Many SUP clubs have been established, including paddling in Hoa Binh lake, Lan Ha Bay, Ba Be lake, Nho Que river, Thac Ba lake, and Tay lake.