As one of the traditional culinary specialties of Vietnam, "Banh Can" is the all-time favorite dish that you cannot miss when you visit south-central Vietnam, especially in Da Nang.
History of "Banh Can"
Banh Can is a rice flour pancake originally from the Cham ethnic group in Ninh Thuan province. This delicious dish is really popular in the south-central region. According to locals, its name comes from how it looks when cooked. "Can" in Vietnamese means "Puff". This scrumptious mini pancake has been around for a long time. It is widely popular in the south-central region with a variety of creative processing methods that add more local ingredients to meet people's needs. There are many famous destinations with this type of cake such as Ninh Thuan, Nha Trang, Da Lat, Da Nang, etc.
Banh Can is served as soon as it is removed out of the round clay molds. The crust is crispy, and it is soft inside. In addition, it is placed a lot of things on the top such as shrimp, squid, chopped beef, and egg. You will use it with Vietnamese dipping sauce and fresh vegetables such as fibroblasts green mango, chopped cucumber, laksa leaves, basil, and green bean sprouts to enhance the savor even further. The sour, spicy, and fleshy taste makes those who have once tasted the rustic mini pancake can never forget it. Furthermore, you will also have an exciting experience when watching the cook directly making "Banh Can".
How To Make "Banh Can"
Banh Can is made from quite simple and fundamental ingredients, and available locally. You can easily find the ingredients in the local flea markets as well as the supermarkets. The following easy recipe will help you have a delicious meal.
Firstly, you need to have the main equipment – a special clay stove or cast iron pan, which has round molds placed in it. Secondly, you prepare the ingredients such as the batter, raw vegetables, and other toppings that you prefer. Finally, you cannot proceed without the delectable dipping sauce. The first step in making a successful "Banh Can" is to mix the pancake batter. You have to soak the rice for at least six hours before blending it with a bowl of cooled rice to make the sticky texture. Then, heat the oven and rub a little onion oil into each mold. When the oven is heated enough, pour the batter into molds about three-quarters each and cover with a lid. Then wait until you catch up with the flavorful smell of well-cooked batter. After that, take the lid out and quickly add a beaten egg and another topping such as shrimp, quid, or sausage to each well before the batter fully sets. Cover the mold and heat for 3 minutes until the topping is thoroughly cooked. Remove the lid and cook for another minute to crisp up the bottom. Put a bit of scallion oil over each cover and sprinkle a dash of minced scallion on top. Using a spoon, scoop Banh Can from the mold, beginning at the edges and working inward. Then place them in pairs and decorate them up to your preference on a plate.
Last but not least, if you've never experienced Vietnamese dipping sauce, it's a light and refreshing garlicky dipping sauce with a combination of sweet, sour, and salty flavors made with fish sauce, sugar, and fresh lime juice (or vinegar) that pairs perfectly with this great Vietnamese dish. You should combine the chilies, garlic, sugar, lime juice, and fish sauce up to your liking. Furthermore, while making this dish, you have a chance to come closer to your families and friends by chatting and laughing as well as sharing your cooking skills.
Ways to eat Banh Can
There are three ways to experience the popular mini pancake. You could choose the preferable one for yourself.
For the first one, you need to add some chilies, Vietnamese meatballs, and pickled papaya into your small bowl of dipping sauce. Then pick up each cake with chopsticks and dip it into the sauce and enjoy. You will find relaxation while eating each with full enjoyment.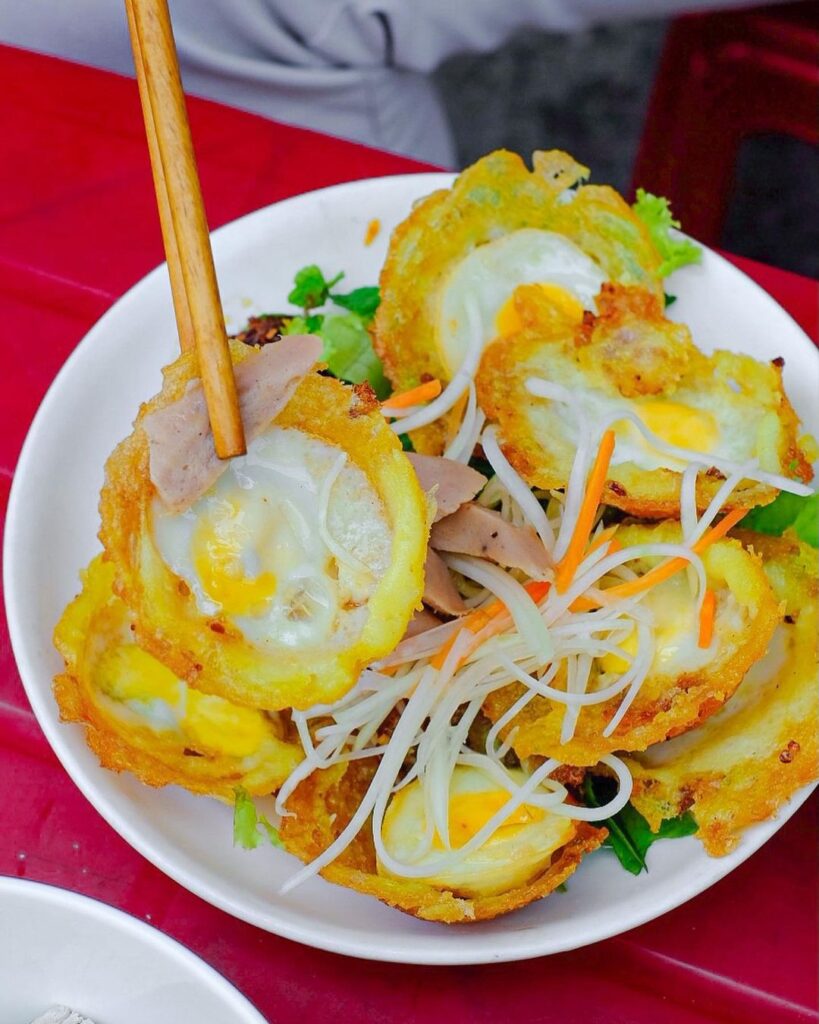 In the second one, you directly pour the dipping sauce into your plate instead of picking up each well like the above way. In this way, your mini pancakes will be immersed in the savory sauce that brings you another yummy flavor.
The last way is also known as the most exciting way called wrap and roll. You will pick it up with your fingers. The first layer is a big leaf of lettuce, then add pickled papaya and other herbs, and finally put a mini pancake on. After that, you will wrap and roll it, and then dip it in a flavorful sauce.
Popular locations of "Banh Can" in Da Nang
Are you eager to have a try "Banh Can"? There are some popular stalls of this dish in Da Nang that will not let you down.
Do Quang Stall
As is one of the long stalls for this popular dish, it still retains the traditional taste of this dish at a reasonable price that you cannot miss. Besides, it also serves other Vietnamese dishes such as "Banh Dap", "Banh Uot", etc.
Address: 47 Do Quang, Thanh Khe District, Da Nang
Open Hours: 3 pm – 7 pm
Thuy Stall
Located right on one of the busiest roads of the city, this stall has an easy-to-find location, so it is reached by a lot of locals. The most impressive and attractive point is its delicious dipping sauce.
Address: 154 Huynh Thuc Khang, Hai Chau District, Da Nang
Open Hours: 3 pm – 6 pm
Tieu La Stall
Unlike other stalls, this one still preserves the most familiar traditional flavors of the old "Banh Can" with the fatty taste of quail eggs and the crispy on the outside.
Address: 118 Tieu La, Hai Chau District, Da Nang
Open Hours: 3 pm – 7 pm
Co Bac Stall
"Banh Can" of Co Bac stall is really delicious and extremely crispy, which perfectly goes with sweet and sour sauce and satay. It attracts lots of locals to come and enjoy, especially on the cooling days.
Address: K58/21 Co Bac, Hai Chau District, Da Nang
Open Hours: 10 am – 5 pm
Cu Chinh Lan Stall
Thick texture, fresh seafood, and less grease are the most prominent features of this stall. Furthermore, the price is super reasonable and the flavor is extremely tasty.
Address: 01 Cu Chinh Lan, Thanh Khe District, Da Nang
Open Hours: 5 pm – 10 pm