Banh Canh is a traditional Vietnamese dish. Banh Canh originated in the Southeast of Vietnam, then it was popularized throughout Vietnam. You can easily find a shop selling Banh Canh on the streets of Da Nang. However, enjoying the right taste of Da Nang Banh Canh is not easy. And Ba Sen shop is the place that gets it right and  I would like to introduce it with you in this article.
Something about Banh Canh Ba Sen
Located in the Da Nang city center, it has been open for business for more than 30 years. The shop is open from 6:30 a.m. to 10 p.m., with prices ranging from 25,000 to 45,000 VND for each bowl of soup, depending on the type. The popularity of this Banh Canh Ba Sen restaurant comes from the taste of the food. It has a selection of fresh seafood ingredients from the Da Nang sea. And the process of making Banh Canh, including preliminary processing of seafood, cooking broth, and some other herbs is completely handmade. Although simple, through the meticulous processing and the mind of Mrs. Sen, everything is wonderfully blended to give diners a journey of premium food experiences. The taste of the bowl of Banh Canh here is extremely rich and unforgettable.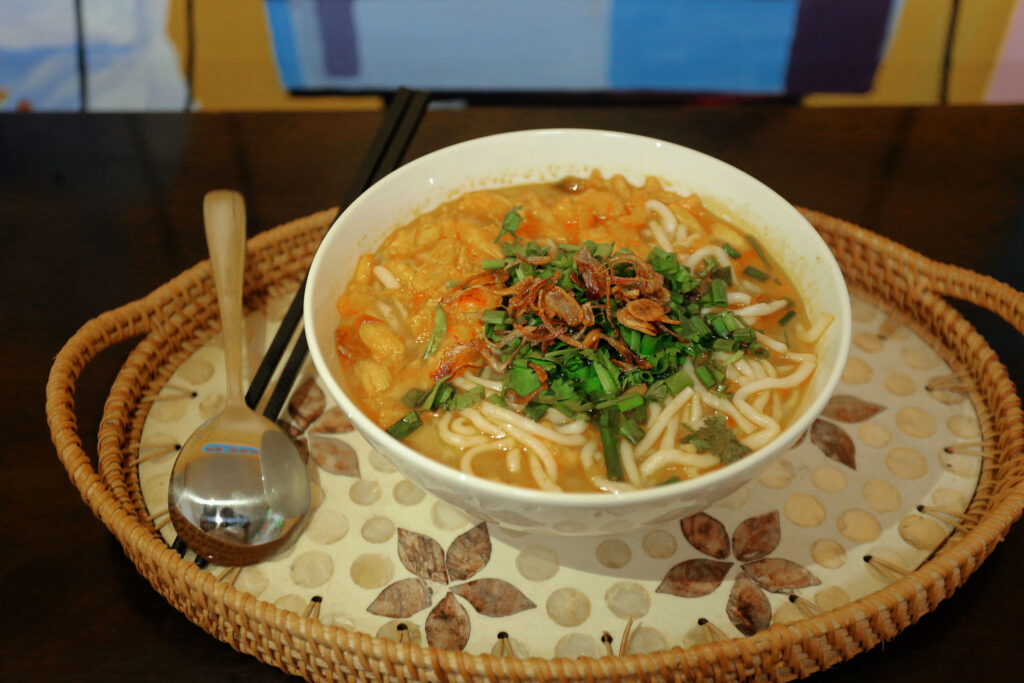 There are many kinds of delicious Banh Canh here, but I will introduce you to four types of soup that are considered the bestsellers of the restaurant.
Bánh canh Ba Sen
Banh Canh Ba Sen is one of the shop's bestsellers. With a unique feature at Ba Sen's Banh Canh Shop, Banh Canh noodles are not too soft for a long time, the noodles are not too chewy, and the broth is sweet from the stewed bones. They are served with shrimp, meat, and crab cakes. Along with the talent, ingenuity, and creativity of Mrs. Sen, they bring to diners a very special flavor of Banh Canh. This brings a delicious feeling to diners when enjoying Banh Canh Ba Sen at this place.
Bánh Canh Thập Cẩm (Mixed Soup)
Banh Canh Thap Cam is famous for the genuine sweetness of stewed bones, both the aroma of the meat and its degree of ripeness—sweet, supple but not chewy, the sweetness of shrimp mixed with crabs. The broth is clear, and the soup is soft but not crumbly or friable. All are delicately combined to create an unmistakable, unique flavor. Add a little spice and a little kumquat to the bowl of mixed soup and try it; you will find nothing better.
Bánh Canh Tôm Thịt (Shrimp and meat soup)
Looking at the bowl of shrimp and meat soup after it has been completed, you will surely find it irresistible. Before eating, sprinkle a little more spring onions for more colors to improve the image. A bowl of delicious, smoky, chewy soup noodles with sweet broth, sweet shrimp, and minced meat with a bit of chewiness from rice mushrooms will surely make your friends and you extremely satisfied.
Bánh Canh Chả Cá (Fried fish cake noodle soup)
This is a fragrant dish with the smell of rice flour combined with the sweet and savory broth and the chewy bite of the fish cake. It is seasoned with  strong spices to create a dish that makes everyone flutter. The fish cake here is made entirely of fresh fish from Da Nang Beach. There are many kinds of fresh fish, such as mackerel, grouper, tuna, flying fish, etc. Enjoying Banh Canh Cha Ca with some green onions, cilantro, pepper, and fried onions will make the dish more rich and full of flavor. If you like, you can add a spicy chili sauce to add more spice and attractiveness!
Bánh canh Càng Ghẹ (Crab soup cake)
Banh Canh Cang Ghe is made from white rice flour that has just been cooked with bone broth, crab meat, and sometimes with other seafood flavors. Freshly boiled crabs: take the meat from each fiber and put it in a bowl of hot crab soup. The sweet taste of crabs and the aroma of the broth make the taste of Banh Canh Cang Ghe at the Ba Sen shop unmistakable.
Banh Canh Ba Sen, one of the famous branded Banh Canh shops in Da Nang, is not only great in the taste of the food but also in its service–the staff are extremely friendly and they have a hospitable attitude in the shop.
Banh Canh Ba Sen Information:
Address: 221 Nguyen Chi Thanh, Hai Chau, Da Nang
Tell: 081 703 0193
Email: banhcanhbasenoffcial@gmail.com
Time open: 06:30 AM – 10 PM