Vietnamese cuisine is famous around the world. Vietnamese noodle dishes, rice paper dishes, and coffee are just some of the iconic food items from this country. But like all other cuisines, Vietnam offers a good range of choices in the dessert category.
We consume desserts typically after every meal. It is like the last act of a play or the conclusion of an essay. Often desserts are these sweets or confections. Examples are pastries, ice cream, or cakes. A good selection of fruits can also be considered dessert. The types of desserts that are popular may vary across countries and cultures.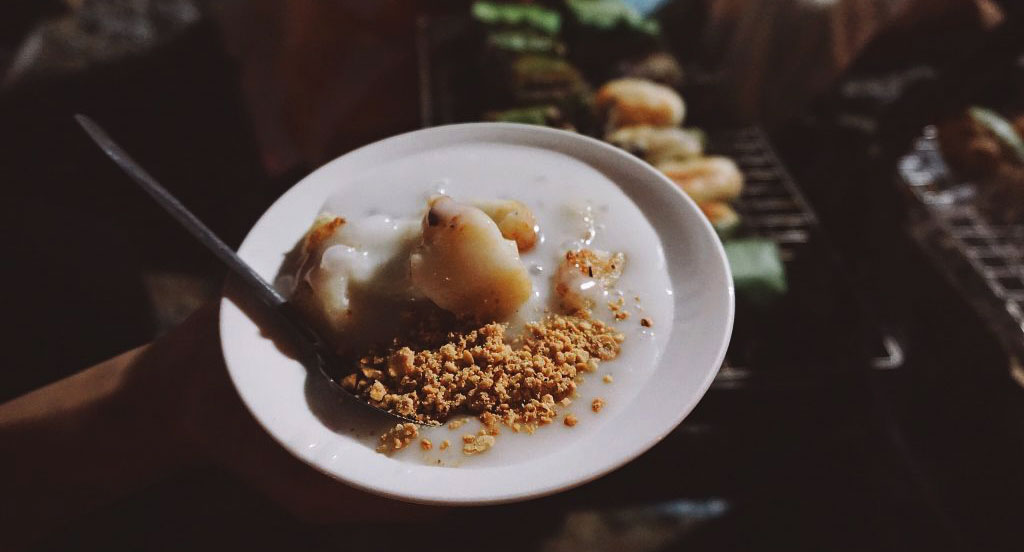 Attributed to Southeast Asia's temperate climate, it is no doubt that iced desserts are famous in any country in this region. Coming from the Philippines, I would usually have Halo-halo which is shaved ice coupled with ube, beans, caramelized banana, other native fruits, and gulaman, and then topped with a flan or ice cream and sweet milk as a perfect summer refreshment. Imagine my delight when I finally had the version of the same dessert in Vietnam called chè!
Chè is a ubiquitous dessert or refreshment in Vietnam.
The dessert comes in all forms, shapes, and servings! It may be hot or iced, pudding-like or milky, drunk or eaten. If this dessert were a mythical creature, it would be a shapeshifter. It has the ability to transform into a whole new form of dessert with just a mix and match of ingredients.
A glass of chè usually consists of beans, milk, jellies, and ice. Additional components are flan pudding and fruits like the ever-famous durian, pomelo, and banana. You can serve chè on different occasions too.
Because of Vietnam's geography, the type of dessert popular in a particular province or city may vary. In Da Nang city, some of the most famous sweet soup varieties are the following: chè đậu đỏ (red beans), chè đậu xanh (green beans), xoa xoa hạt lựu (pomegranate seed), xà vẵn (Savannakhet inspired), chè thái sầu riêng (Thailand inspired durian), chuối nướng (grilled banana). Some of the varieties mentioned are served with ice and consumed like a beverage. While the others are best served hot, eaten like a creamy soup.
Living in Da Nang, I have tried the chè thái thập cẩm multiple times; this type, I could say, is the most similar to my country's halo-halo. I would pass on the durian kind, though, since my taste buds are not friendly to durian yet. A typical chè thài thập cẩm has all sorts of jelly shapes: rounded, elongated, cubed. It is colorful and sweet because of the mix of fruits in the beverage and the coconut milk.

Recently though, I have heard about another variety of the dessert called chè chuối nướng. This type of chè is widely consumed in the city. I scoured the city to try this popular dessert among locals. Thanks to the help of my friends, we visited one spot which is known for its chè chuối nướng.
The name chè chuối nướng translates to "grilled banana sweet soup" and true to its name, the dessert checks out. This central region specialty consists mainly of a grilled sweet banana wrapped around sticky rice, thick coconut milk, and then topped with crushed peanuts.
Compared with the usual chè I have, which is cold and iced, this one is hot and creamy.The grilled sticky rice surrounding the fruit has a specific texture unique only to this dessert. It perfectly complements the soft banana inside. The taste of the coconut milk does not overpower the star of the dessert, which is the sweet banana.
Moreover, the coconut milk provides another sweet swatch in the tongue and works so well with the banana flavor! As a lover of peanuts, I believe that is a perfect addition to the whole dessert as it balances out the sweetness with an itty bitty saltiness and crunch. There are also tiny tapioca balls or sago that provide another layer to the mouth. The balls round up all of the textures present in the dessert.
I could think of a similar sweet course in my country, which is called bilo-bilo. Bilo-bilo is also made of coconut milk, sweet banana or saba as we call it, jackfruit, other fruits, sago, sticky rice flour balls, etc. The main difference, though, is in the preparation and the texture of the bilo-bilo and chè chuối nướng. The chè chuối nướng is built individually. Every ingredient is added on top of one another until a beautiful serving is ready. On the other hand, the components of bilo-bilo are all simmered in boiling coconut milk, making it a bit mushier than this variety of chè.
I would not dare say one is better than the other, but I could say that this chè chuối nướng ticks all of the boxes in my palette. There is nothing I do not like about it. This dessert one is light, and great as an after-meal. It is filling and inexpensive too.
I have tried chè chuối nướng in two locations around the city. And my experience in both places was delightful. The first place you can check out is somewhere at 390 Hoang Dieu street. This old seller typically opens late in the afternoon and camps on the street side. Small red chairs are stacked up in front of her large baskets of banana and flan pudding, so I think it will not be hard to miss her. Another note is that the seller gives you the option for the banana: you can get it steamed or grilled. I preferred the steamed one here because the sweet banana's flavor is still intact. However, the grilled banana had a smoky hint while still maintaining its softness and sweetness.
The next place you can visit is at 78 Nguyen Chi Thanh street. It is a small home shop that sells three kinds of chè. One of which is the grilled banana sweet soup. I liked this one more than the other because the dessert served in this place is lighter. This chè chuối nướng felt like a soft surprise. It is mild but satisfying.
Da Nang city is not only home to seafood or noodle dishes, but it also has one of the most interesting desserts in the country—grilled banana sweet soup or chè chuối nướng! Despite having roots from the Southern region, Da Nang people have innovated the preparation of the said dessert and have made it to be the rocket of texture it is with the outer layer of grilled sticky rice, the crushed peanuts, and the smooth tapioca balls.
It is a gentle burst of flavor with the sweet banana and the complementary creamy coconut milk. The overall flavor does not impose but soothes. A perfect dessert or a late afternoon snack when passing the time before dinner. Chè chuối nướng is a must-try! If anyone asks me what my chè of choice is. It would be chè chuối nướng. A sweet soup? With bananas? And nuts in it? Oh, stunning!
Chè Chuối Nướng – 390 Hoang Dieu, Da Nang
Chè Chuối Nướng – 78 Nguyen Chi Thanh, Da Nang