Are you on the hunt for an absolutely amazing place that perfectly encapsulates your love for hip-hop and coffee at one time in Da Nang? So, you definitely cannot afford to miss out on BHomies Coffee, a hip-hop-inspired coffee shop located on Le Loi Street that every local has heard of at least once.
BHomies Coffee will bring you a laid-back atmosphere and chill vibes on weekday mornings and also fuel your energy with a lot of epic DJ sessions on weekends. Look no further than BHomies Coffee, this convenient sidewalk coffee shop will help you relax after your long busy days while keeping you connected to the beat of the streets with exciting hip-hop songs and DJ performances along with your homies
Chilling for Days, Exciting For Nights
I had an excellent opportunity to visit this coffee shop on the weekend when an international firework event occurred in Da Nang. At first glance, I was overwhelmed by this hip-hop coffee's bustling and dynamic vibe. The atmosphere is alive with energy, buzzing with the sound of lively conversations and laughter of the crowd sitting in clusters on the sidewalk, and the rhythmic beats of hip-hop music and DJ performances in turns. I could say the sense of community is palpable, with individuals engrossed in animated conversations while enjoying a moment of solace with their favorite beverage.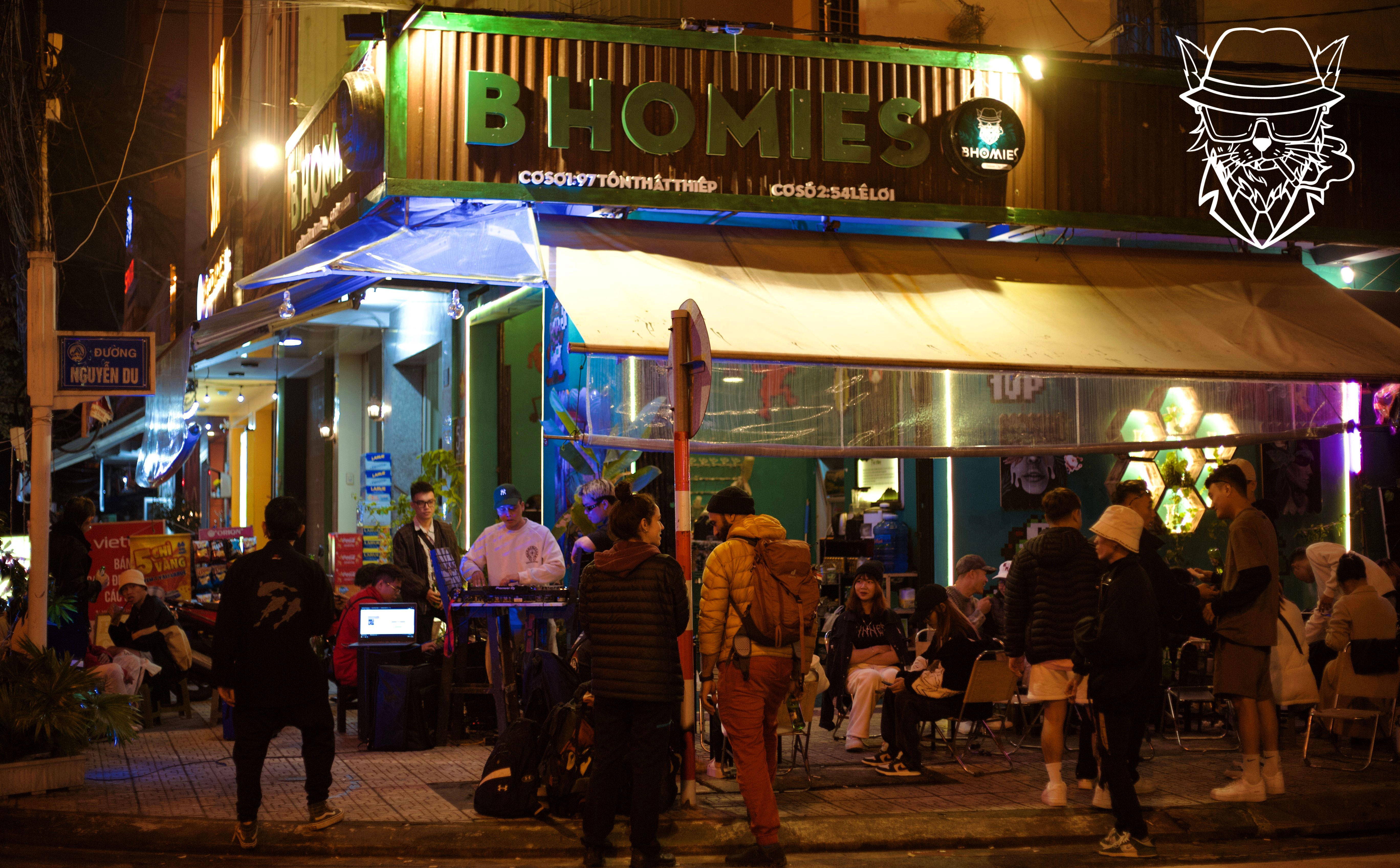 A Flavorful Taste of Vietnamese Coffee
After taking a seat at one of the comfortable corners, I flipped through the beverage menu. BHomies offers a range of Vietnamese-style coffee options that showcase the rich and nuanced flavors of premium beans, which cater to every taste and preference such as Salted Coffee, Saigon Iced Coffee With Milk, Vietnamese White Coffee, and so on. In addition to coffee options, the coffee shop also serves fresh fruit juices, smoothies, teas, alcoholic drinks,v.v.
According to the recommendation of an enthusiastic staff, I chose a cup of salted coffee, one of the signatures of the shop. Salted coffee may sound unconventional at first, but believe me, it is definitely a real deal. After indulging in the first sip, I was immediately hooked by the subtle addition of salted milk form to the already exceptional coffee blend creating a symphony of flavors that danced on my palate. The salt enhances the natural sweetness of the coffee, adding depth and complexity to each sip. I could say it is a harmonious balance that will leave you craving more if you have a chance to try it.
Bringing People Closer Together Through Small Stories
While sipping my new favorite coffee and enjoying the exciting DJ tracks, I had a friendly conversation with one of the owners to explore more about the culture as well as other edges of the shop. "What inspired me to create the name of the shop is the brotherhood and camaraderie within the vibrant hip-hop community." He explained, "BHomies means the belief in homies." There was always something inside which urged him to create a place for close friends or individuals who have a lot in common and share a strong bond like brothers. This is why the brand was "born" to represent his desire for the power of having a tight-knit group of individuals who uplift and inspire one another, fostering a sense of belonging and community, especially for hip-hop aficionados.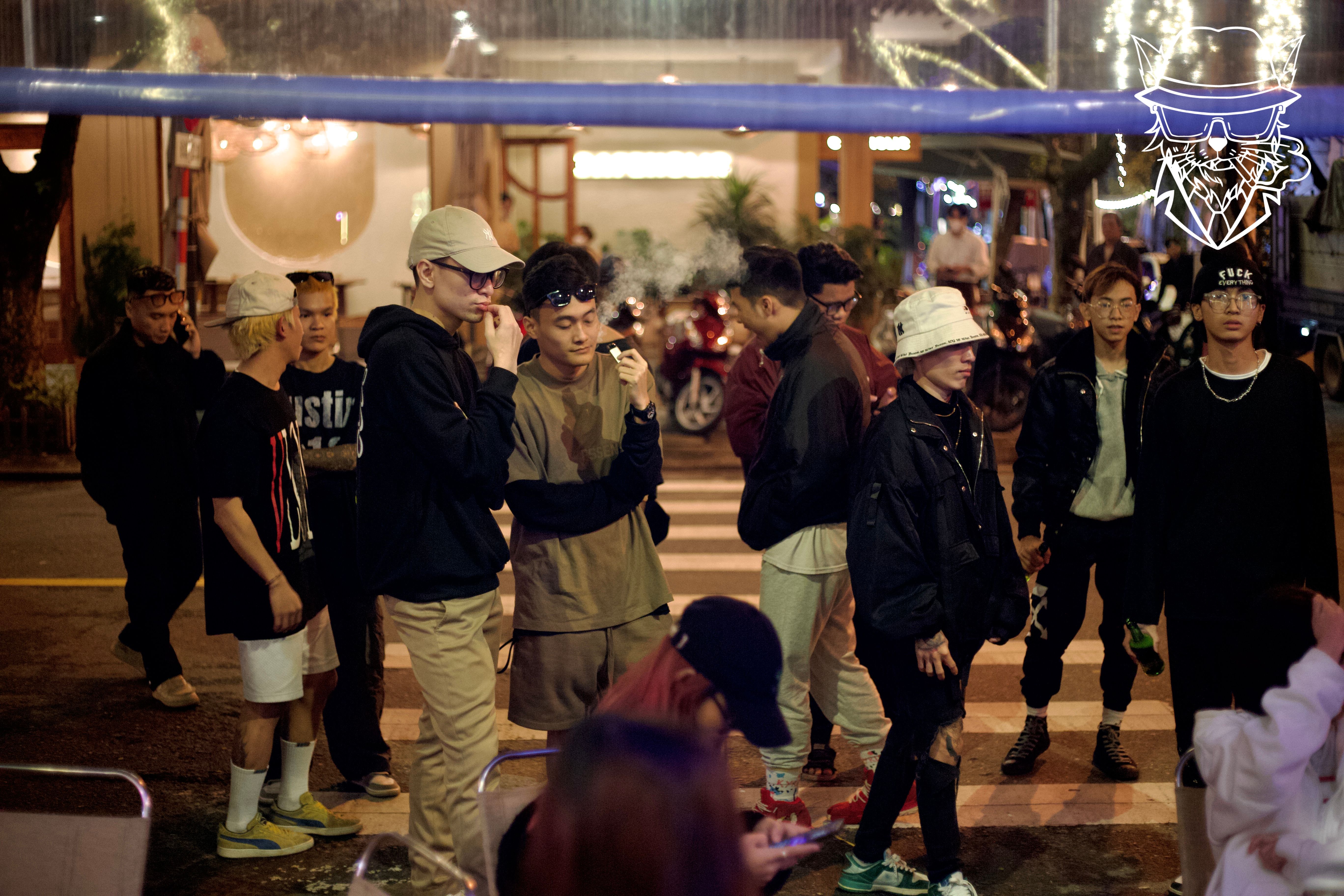 Besides that, he also designed a logo with a cat's face in gangster style. At first glance, it reminded me of gangster cats of the "Tom and Jerry" series with a tough-guy attitude and mischievous grin. The owner held a deep fascination for this logo and explained its significance, which lies in the unity and solidarity of his comrades. Having operated the shop together for many years, enduring many ups and downs, they have formed a loyal brotherhood akin to "gangster" fraternities.
Affordable Prices And Attentive Staff Are A Perfect Match
The coffee shop offers a delightful combination of reasonable prices and attentive staff, creating a positive and enjoyable customer experience. One plus thing I am really interested in is that although the coffee shop is always busy with customers, the owners make efforts to move around and support ones with bright smiles and intimate conversations.
In conclusion, BHomies Coffee stands out as a vibrant and unique coffee shop that embraces the spirit of hip-hop culture. With reasonable prices, attentive staff, and a comfortable atmosphere, this coffee shop has earned its reputation as a must-visit destination for coffee lovers and enthusiasts of all backgrounds in Da Nang. So, don't miss out on the opportunity to immerse yourself in the energetic and inspiring world of BHomies Coffee.
BHomies Coffee
Address: 54 Le Loi, Da Nang
Fanpage: https://www.facebook.com/bhomiesdn
Tel: 093 477 33 43