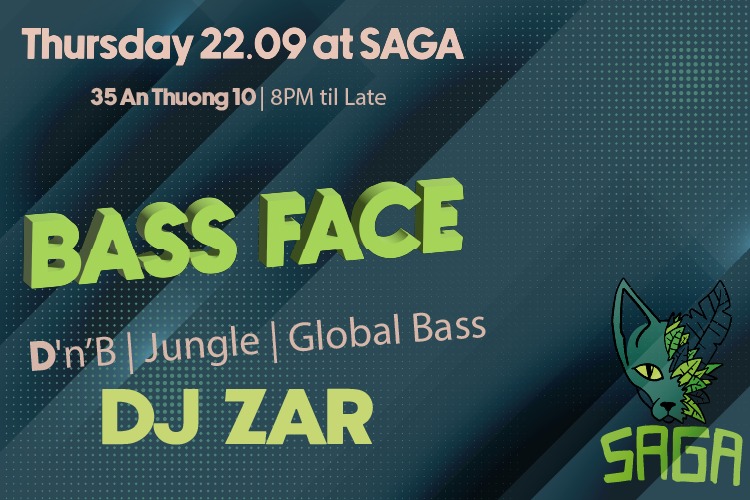 BASS FACE | DnB / Jungle / Global Bass
[Tiếng Việt bên dưới]
Bass culture is a global phenomenon that have been embraced, explored and developed in every corner of the globe. Everyone has a different definition of bass music, spanning over so many genres and crossing over with so many other music styles!
SAGA Neighborhood Music Bar is happy to present the first installment of the monthly BASS FACE – pull-up, jump-up and skank down to the sounds of Drum'n'Bass, Jungle, Dub and other sub-genres under the room-shaking world of bass music!
Guest DJ – Zar [RU]
Get down to Saga this Thursday night!
Soft Opening Promotion – 7PM to 11PM Daily Until Oct 1st:
Buy 1 – Get 1 Free – All Cocktails + G&T Collection;
Buy 1 – Get 1 Free – Tuborg Beer;
———————————–
Văn hóa Bass là một hiện tượng toàn cầu đã được đón nhận, khám phá và phát triển ở mọi nơi trên thế giới. Mỗi người đều có một định nghĩa khác nhau về âm nhạc trầm, trải dài qua rất nhiều thể loại và kết hợp với rất nhiều phong cách âm nhạc khác! SAGA Neighborhood Music Bar vui mừng giới thiệu phần đầu tiên của BASS FACE hàng tháng – kéo lên, nhảy lên và thả mình theo âm thanh của Drum'n'Bass, Jungle, Dub và các thể loại phụ khác trong không gian rung chuyển thế giới của âm nhạc trầm! DJ khách mời – Zar [RU] vào tối thứ Năm này!
Khuyến mãi – 7 – 11 giờ :Mua 1 – Tặng 1 – Tất cả Cocktail + Bộ sưu tập G&T; Mua 1 – Tặng 1 – Bia Tuborg;
———————————–
SAGA – Neighbourhood Music Bar
????????: 35 ?? ?ℎ???? 10, ?? ???? ????
?????: saga.danang35@gmail.com