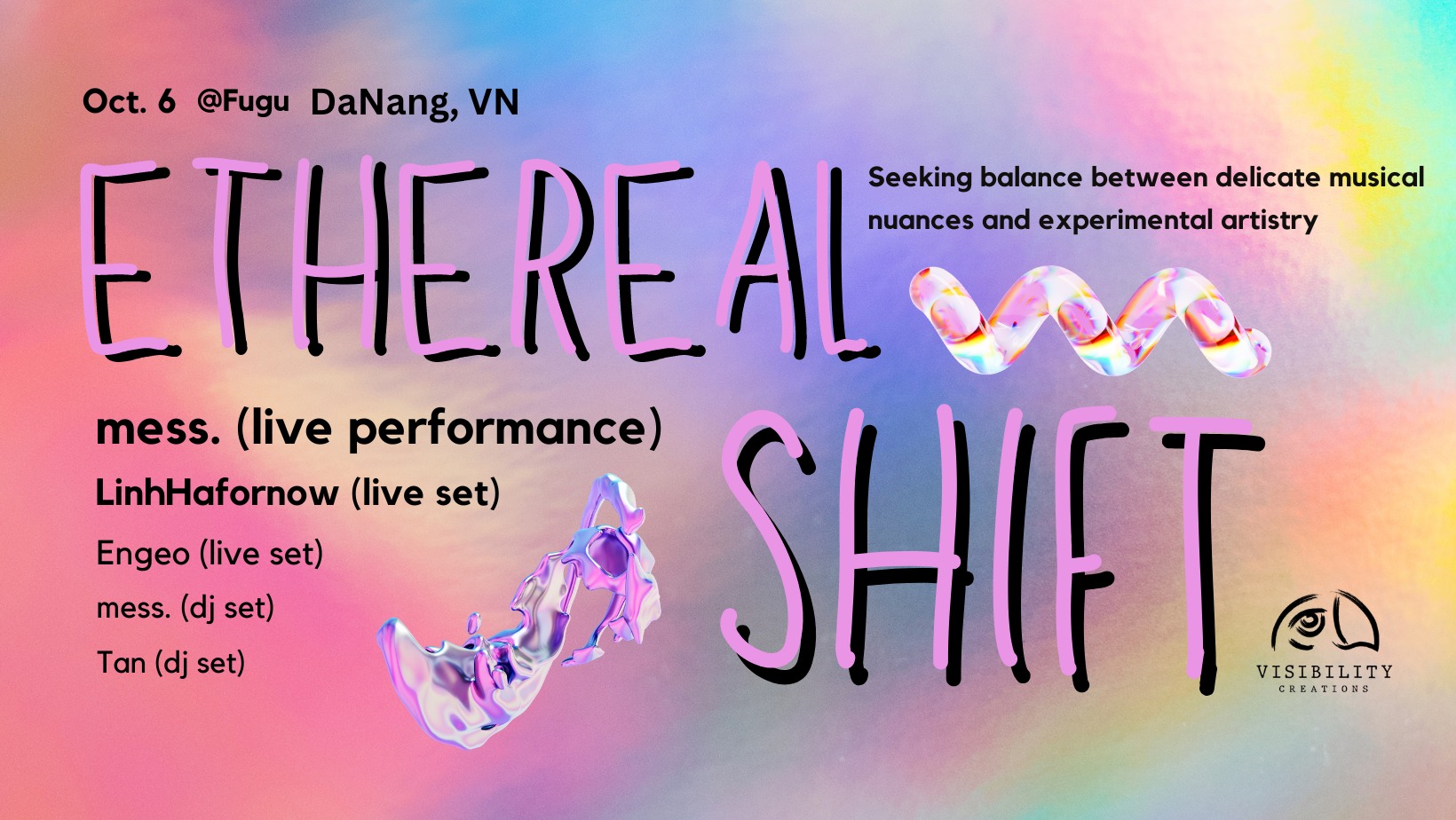 Ethereal Shift
Visibility Creations tự hào giới thiệu Ethereal Shift. Một buổi tối tìm kiếm sự cân bằng giữa sắc thái âm nhạc tinh tế và nghệ thuật thử nghiệm. Với sự cân nhắc có chủ ý và chỉnh chu, chúng tôi đã lựa chọn những nghệ sĩ để dẫn dắt bạn qua một hành trình hứa hẹn sẽ kích thích các giác quan thính giác và thị giác của bạn, động lại cho bạn những cảm xúc sâu sắc và dài lâu.
~~~
mess. (trình diễn trực tiếp + dàn dj)
LinhHafornow (trình diễn trực tiếp)
Engeo (trình diễn trực tiếp + set nhạc)
Tân (DJ)
jungle lilly with ms. S (trình diễn trực tiếp + set nhạc)
Các tác phẩm sắp đặt và biểu diễn trực quan của Diegolazy & Codythyme. Họ sẽ cùng nhau chuyển hóa không gian Fugu thành một trải nghiệm hình ảnh sống động xuyên suốt buổi diễn.
~~~~~~
Ngày 6 tháng 10.
Đà Nẵng, VN
Không gian âm nhạc Fugu
Ticket ~ 150,000 VND
~~~
Visibility Creations is proud to present Ethereal Shift. An evening seeking balance between delicate musical nuances and experimental artistry. With intentional and thoughtful consideration, we've curated an artist lineup to lead you through a journey that will stimulate your auditory and visual senses, leaving you with lasting emotion and sensation.
Artist Lineup
~~~
mess. (live performance + dj set)
LinhHafornow (live performance)
Engeo (live set)
Tan (dj set)
jungle lilly with ms. S (live set)
~~~
Visual installations and performances by Diegolazy & Codythyme. Together they will turn Fugu into an immersive visual experience along with live visuals throughout the evening
~~~
Oct 6.
DaNang, VN
Fugu Music Space
Ticket ~ 150,000 VND
~~~
mess. – mess. considers herself a multi-media artist. She is highly active in the underground community in Vietnam, especially in Ho Chi Minh, being involved in founding Hip-Hop collective vndtown and DJ collective Gãy.
Apart from DJ-ing, with which mess. has been featured by Boiler Room; she also performs her original works using her voice and experiments on various traditional musical instruments, often teams up with guitarist Liêm Hiếu. She has been invited to perform in events by the British Council and Goeth-Insituit in Vietnam. She has also worked as a promoter, artist manager, and AnR, but since focusing on being an artist herself, she then gradually isolated herself from all other roles and took on creative directing for most of her upcoming music releases.
mess. is appreciated for her naiveté and genuineness in approaching different music styles and cultures. Her style includes a fine harmony between seriousness and unseriousness, improvision and calculation, aggressiveness and poetic calmness, and between tradition and modernity. She handles her creativity process with great intuitiveness, resulting in such unexpected and surprising experiences every time we see her on stage.
LinhHafornow – Linh Hà is a Hanoian independent art practitioner focusing on sound art, live performing and sonic storytelling. With sounds and music she wants to create a sonic space to unearth her own way to storytelling where sonic narratives play a very important role. Linh Hà's approach to music is personal, honest and visceral. In her work, listeners can find layers drawn from traditional Vietnamese and extended vocal techniques, analog synthesizer and various samples. All of these elements are combine to create an intimate but also confronting listening experience. Her interests at the present are nature/human | human/human (belongingness, collective memory) | non-human/human relations & the present, hence the stage name LinhHafornow.
Engeo – Earth based musician and producer Engeo will take you on a journey to the exosphere and back. Combining live looped deep space jazz, celestial jams and futuristic fractal funk, he'll wiggle the air in a way that will almost certainly sound like music.
Tan – Tan residents from the P.M.C crew, formed in DaNang since 2019
with the aim of bringing good quality music party to satisfy their passion
and to spread the love of music to the people, Tan has been joining hands
with many other cool people to host some memorable music events and has been DJing
in their event as a resident along with many international friend DJs.
With a fine tuned ear for diverse and intricate sounds,
the young selector always brings a positive energy when blessing the decks