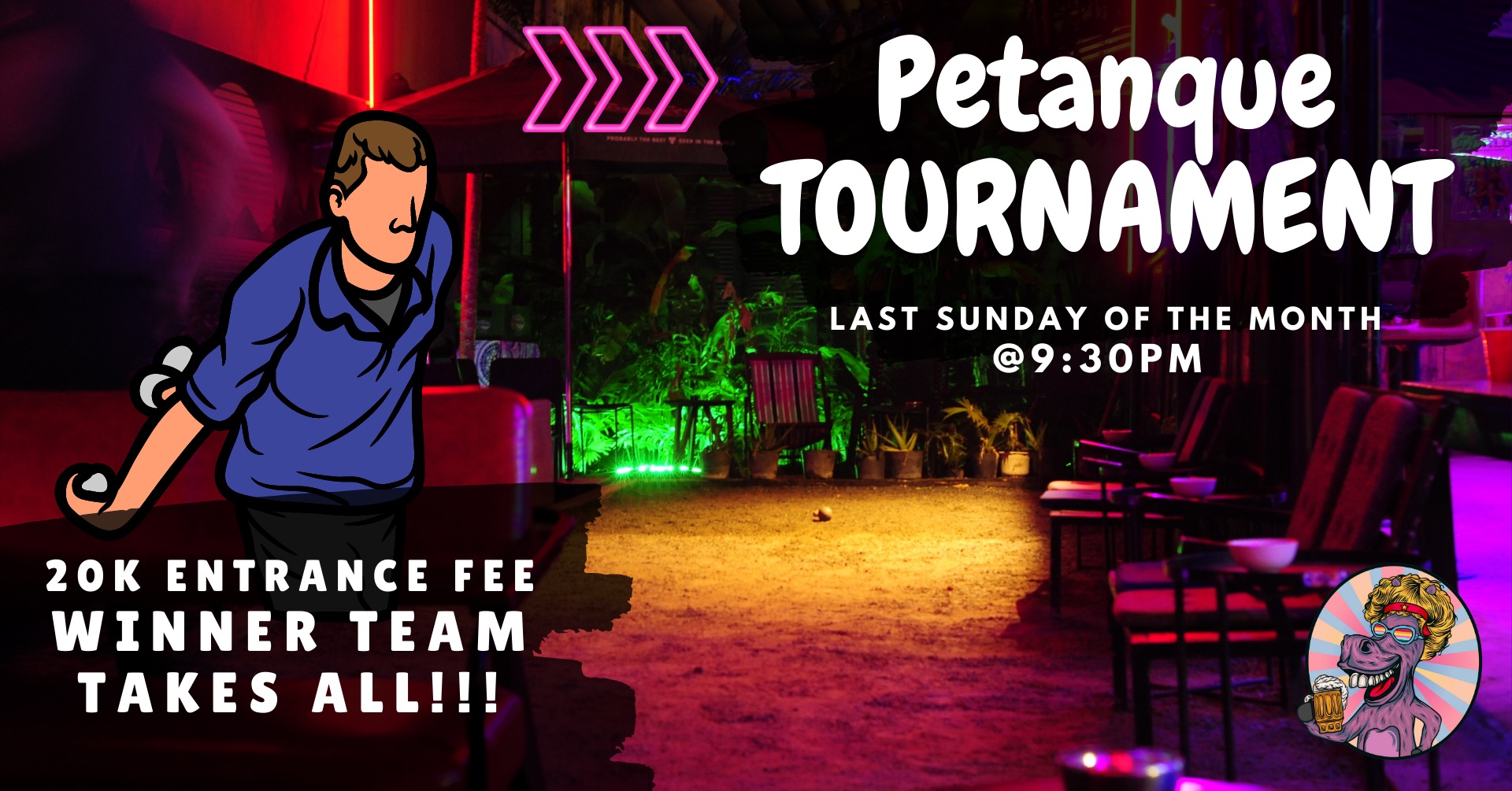 FUNKY BOCCE TOURNAMENT AT FUNKY DONKEY
▼Vietnamese Below▼
Come and join us for the dramatic battle of bocce at the 𝙁𝙪𝙣𝙠𝙮 𝘿𝙤𝙣𝙠𝙚𝙮! Even beginners can try their luck and win! (already happened, hehehe
) The event starts at 9:30pm, the balls are provided but you can bring yours if you have

See you on the court!
The winners will get:

All the participation fee money

A free round of "𝗙𝘂𝗻𝗸𝘆" 𝘀𝗵𝗼𝘁𝘀 and a 𝗖𝗿𝗲𝗮𝗺𝘆 𝗖𝗢𝗖𝗞𝘁𝗮𝗶𝗹

Mouthwatering Pissaladière (a type of French tart, super yummy
)

Funky Donkey goodies

A gift set from 𝘾𝙖𝙧𝙡𝙨𝙗𝙚𝙧𝙜
No reservation needed, you can also find a teammate on spot
: Every last Sunday of the month

: 9:30 P.M – 1:00 A.M

: 20,000VND
—
Hãy đến và tham gia cùng chúng tôi để tham gia trận đấu bocce đầy kịch tính tại 𝙁𝙪𝙣𝙠𝙮 𝘿𝙤𝙣𝙠𝙚𝙮! Ngay cả những người mới bắt đầu cũng có thể thử vận ​​may và giành chiến thắng! (đã diễn ra rồi hehehe
) Sự kiện bắt đầu lúc 9:30 tối, bóng được cung cấp nhưng bạn có thể mang bóng của mình nếu có

Hẹn gặp lại bạn trên tòa án!
Người chiến thắng sẽ nhận được:

Toàn bộ tiền lệ phí tham gia

Một vòng quay miễn phí "𝗙𝘂𝗻𝗸𝘆" 𝘀𝗵𝗼𝘁𝘀 và một 𝗖𝗿𝗲𝗮𝗺𝘆 𝗖𝗢𝗖𝗞𝘁𝗮𝗶𝗹

Pissaladière chảy nước miếng (một loại bánh tart của Pháp, siêu ngon
)

Quà tặng hình chú lừa ngộ nghĩnh

Bộ quà tặng từ 𝘾𝙖𝙧𝙡𝙨𝙗𝙚𝙧𝙜
Không cần đặt trước, bạn cũng có thể tìm đồng đội tại chỗ
: Mỗi Chủ nhật cuối cùng của tháng

: 21:30 – 1:00

: 20.000đ
—
FUNKY DONKEY

: 5 P.M – late

: 61 Ngô Thì Sỹ, Bắc Mỹ An, Ngũ Hành Sơn, Đà Nẵng

: (+84) 37 694 1482 (English & French)