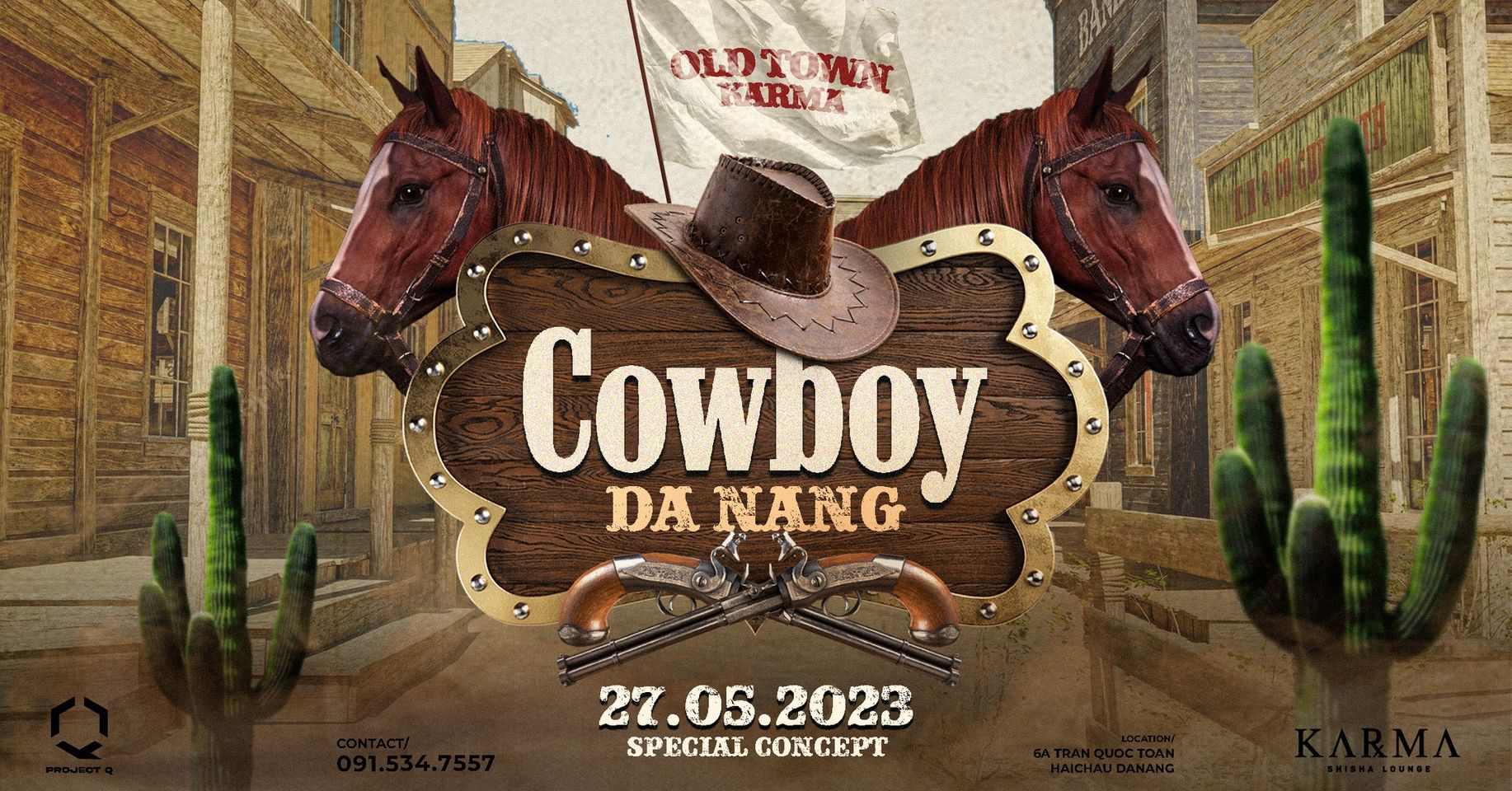 KARMA | SPECIAL CONCEPT DANANG COWBOY
𝘝𝘐𝘌𝘛𝘕𝘈𝘔𝘌𝘚𝘌 𝘉𝘌𝘓𝘖𝘞
𝗞𝗔𝗥𝗠𝗔 : 𝗦𝗣𝗘𝗖𝗜𝗔𝗟 𝗖𝗢𝗡𝗖𝗘𝗣𝗧 _ 𝗗𝗔𝗡𝗔𝗡𝗚 𝗖𝗢𝗪𝗕𝗢𝗬 – 𝗦𝗔𝗧, 𝟮𝟳.𝟬𝟱.𝟮𝟬𝟮𝟯!
When the afternoon sun gradually falls, it is also time for Karma to open an interesting nightlife journey 𝗦𝗣𝗘𝗖𝗜𝗔𝗟 𝗖𝗢𝗡𝗖𝗘𝗣𝗧 _ 𝗗𝗔𝗡𝗔𝗡𝗚 𝗖𝗢𝗪𝗕𝗢𝗬 – 𝗦𝗔𝗧, 𝟮𝟳.𝟬𝟱.𝟮𝟬𝟮𝟯. An adventure between elegant cowboys and liberal, haughty ladies. A brimmed hat or high-heeled boots will be the highlight of a trip to the glorious American West. Proud in the middle of a large field, come to the party of genuine cowboys at the corner of the street 𝗞𝗔𝗥𝗠𝗔 – 𝟲𝗔 𝗧𝗥𝗔𝗡 𝗤𝗨𝗢𝗖 𝗧𝗢𝗔𝗡!
Let's Party!!
➢ Reserve in advance via m.me/karmalounge or +84 915 347 557
——
Khi nắng chiều dần buông xuống cũng là lúc Karma mở ra một hành trình về đêm đầy thú vị 𝗦𝗣𝗘𝗖𝗜𝗔𝗟 𝗖𝗢𝗡𝗖𝗘𝗣𝗧 _ 𝗗𝗔𝗡𝗔𝗡𝗚 𝗖𝗢𝗪𝗕𝗢𝗬 – 𝗦𝗔𝗧, 𝟮𝟳.𝟬𝟱.𝟮𝟬𝟮𝟯. Chuyến phiêu lưu giữa những chàng cao bồi lịch lãm và các quý cô phóng khoáng, kiêu kỳ. Chiếc mũ vành hay đôi boots cao gót sẽ là những điểm xuyết cho chuyến du ngoạn về vùng miền viễn Tây huy hoàng nước Mỹ. Huênh hoang giữa cánh đồng rộng lớn, đến với bữa tiệc của các cowboy chính hiệu tại góc phố 𝗞𝗔𝗥𝗠𝗔 – 𝟲𝗔 𝗧𝗥𝗔𝗡 𝗤𝗨𝗢𝗖 𝗧𝗢𝗔𝗡 !
Let's Party !!
➢ Đặt bàn trước qua m.me/karmalounge hoặc +84 915 347 557
‣‣‣‣‣‣‣‣‣
𝐊𝐚𝐫𝐦𝐚 𝐃𝐚 𝐍𝐚𝐧𝐠 • 𝐓𝐡𝐞 𝟏𝐬𝐭 𝐋𝐨𝐮𝐧𝐠𝐞 𝐢𝐧 𝐃𝐚 𝐍𝐚𝐧𝐠
Hotline Booking/ Zalo: +84 915 347 557
Location: 6A Tran Quoc Toan, Hai Chau, DaNang City.
Instagram: https://instagram.com/karmadanang.6.tran.quoc.toan
Website: Karmadanang.club
© 𝟮𝟬𝟮𝟮 𝗣𝗥𝗢𝗝𝗘𝗖𝗧 𝗤