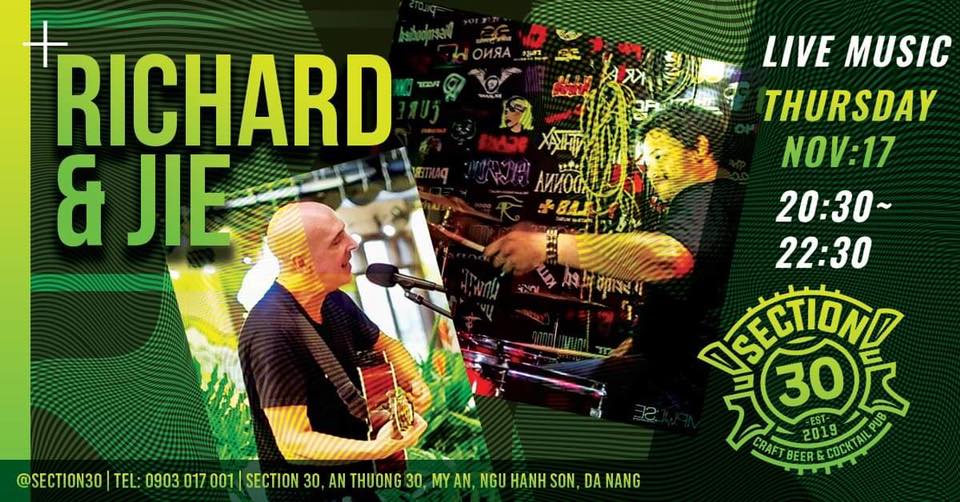 RICHARD & JIE – Live at Section30
??????? ???? ????? at ???????³⁰ ?!(17.11.2022 – 19.11.2022)
???? ????? – RICHARD & JIE, Thursday, Nov 17th, 2022 ?:30??
Yes! Fun Jam of Richard and Jie are at Section30 for an even more wonderful Music Night. You definitely don't want to miss the chance to enjoy the lovely vibes and relaxing melody of this amazing duo.
Enjoy your night in our open-air bar and sip on our signature cocktails, local & imported craft beer, and premium wines.
We look forward to seeing you soon!
????? ???? ??? – ???
Đừng quên liên hệ với chúng tôi để đặt bàn trước nhé

Please ring our hotline or DM us for table bookings

================
SECTION30 DANANG – Buzzy open-air bar

An Thuong 30 Street, Ngu Hanh Son District, Da Nang.

Hotline: +84 90 301 70 01
HAPPY HOUR: 4pm-7pm
LIVE MUSIC WEEKENDS
GROUP/EVENT BOOKING