Summer in Da Nang – Hoi An is one of the best times that visitors should not miss. This time of the year, we have a lot of exciting events that flood participants. And this year, exactly during one of the biggest festivals in Viet Nam – Liberation Day and Labor Day, Adventure Studio brought the Hoi An chronicles to everybody who loves music, dancing, and meeting new friends.
About Hoi An Chronicles
Studio Adventure has made its mark in the last few years with its image being recognized as one of Vietnam's most prolific art-making collectives through its music festivals combined with its many creative aspects. Over the past few years, they have expanded the source of "materials" for their project "menu" in many different creative fields such as the collaboration with artist Thai Linh, painter Caubetho, music producer – Nodey, photographer Lam Nguy… and most recently a collaboration with a fashion brand called Paradise in Saigon.
For its debut, this summer, Studio Adventure Collective "takes over" a modest villa in Hoi An that spans 12,000 square meters along the coast and sits at the center of a melody between the forest and the ocean with two courtyards. the festival's three days of music and a variety of other events.
Hoi An Chronicles was be held from April 30 to May 1st, in Blush Beach Club Hoi An.
Blush Beach Club Hoi An – The villa on the beach
The place that Studio Adventure chose to host this event gives off the first impression. The 12,000-square-foot mansion is situated between a lush jungle and a brilliant beachfront.
When we entered, I could see the many areas of the villa that Adventure Studio had set up to provide an enjoyable time for its customers. The check-in line was run very professionally; there was always a person on hand to handle any customer difficulties that happened.
On the exact left side of the check-in desk, there were a couple of bars and food vendors that offered customers delicious food and special drinks to enjoy that evening. Even though they said that the check-in line would open at 18:00, they were prepared for the event quite quickly, at around 4:00 PM. You won't feel exhausted tomorrow from 18:00 to 6:00 because this place's delicious meals and tasty foods will give you extra energy.
The top DJs and artists will perform on the stage in the center. They are both local and international artists, and they have every desire to make this music festival the best one ever.
There is a collection between Paradise Saigon and Adventure Studio for their three days in Hoi An Chronicles. The brand Paradise is unique and has guaranteed value. Their collaboration of them is an incredible thing that can help young people express their unique art and creative minds.
Blush Beach Club Hoi An was a great selection for the location. It had a sizable outside area that was ideal for relaxing and dancing, complete with a beach and a pool. There was a full bar and restaurant at the club, so you could eat and drink as you danced.
Music, sound systems, and their celebration special guests
Studio Adventure brought the top local, regional, and international electronics arts and the local live bands. This year, Studio Adventure also collaborates uniquely with Vietnamese artist Caubetho, bringing the best experiences for music lovers.
From Asia, Studio Adventure flies in:
Disconnected (Taiwan), resident at Organik and Pawnshop;
Pichy (Thailand), one of Bangkok's most omniscient figures;
Jesse You (Korea), from the collective Walls and Pals;
MDM Columbia (Japan), live multi-instrumentalist and singer;
Yadin Moha (Singapore), from the cooperative 'Strange Weather'.
From further afield:
Simone de Kunovich (Italy) from Mule Musiq;
Matisa (Italy) from Optimo Music;
Blazin (UK) resident at the infamous festival Outlook.
Finally, from the booming Vietnamese scene: Taku Hirayama; Minoto; Mam; Limebocx; Di Linh; Nodey; Tiny Giant; Tizone; Manik; Ouissam; Sen10za; Viet Anh; Kivi, Nyjah; ToK; SanPelo; TrinhNu; Zwi; Dane; Mishoju; Neji; Lien; Sheereen and plenty more.
Following there is the lineup to live bands, 7 acts have been curated starting with world music duo Limebocx; live electronic duo Tiny Giant; Hip Hop and Soul group Mắm; beatbox performers Noise Psycho; reggae bands Trung Mien and The Gratoners as well as live electronic duo S.E. Project.
With all these celebs, they created memories at night. The past 3 days were a piece of different music and different vibes that all the music lovers enjoyed!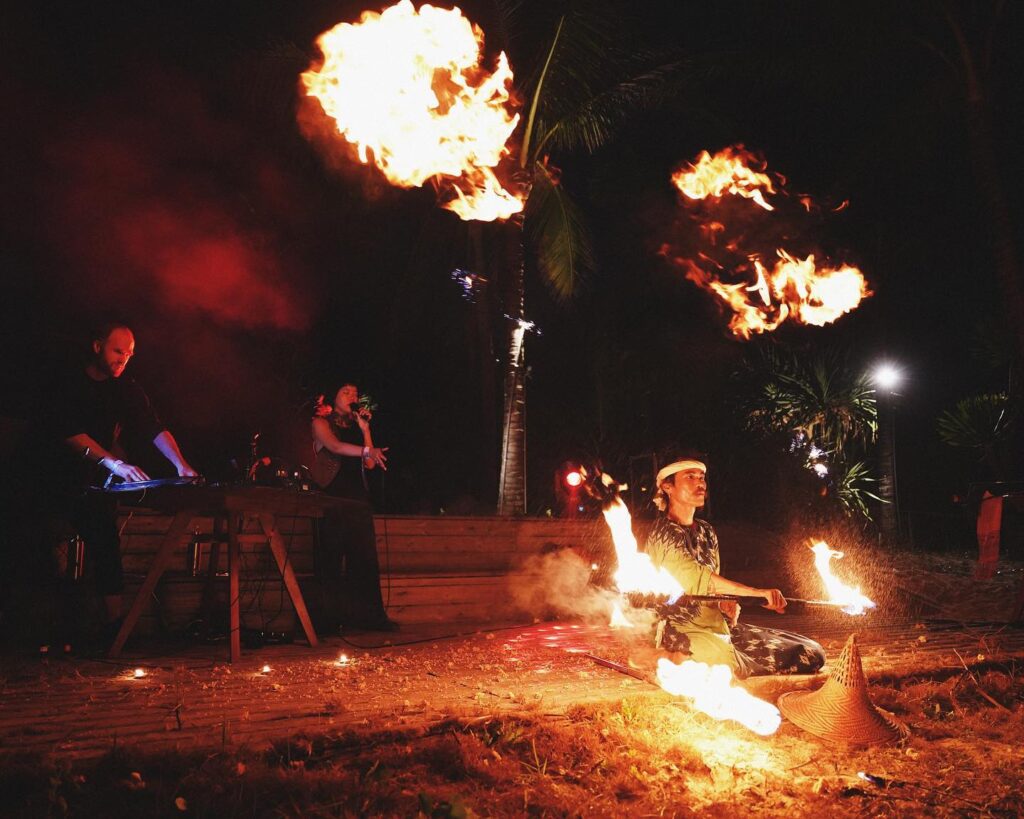 Enjoy this music festival in the summer
So this is a reason why you should not miss this music event!
The soundtrack: Hoi An Chronicles consists of a wide group of international electronic music musicians. From house and techno to drum and bass and beyond.
The establishment: Hoi An Chronicles offers a unique festival experience. The festival is held in a stunning location on Vietnam's coast, and the energy is noticeable.
The Community: Hoi An Chronicles is a beautiful area to make friends and meet new people. Everyone is there to have an enjoyable time, and the festival is a warm and welcoming place.
The memories: Attending Hoi An Chronicles is a memorable experience. You can let loose and dance the night away at the festival, and you'll undoubtedly create lifelong memories.
Hoi An Chronicles is the ideal festival if you're seeking a unique and unforgettable electronic music festival experience.
Hoi An Chronicles 2023 was a success. The festival received praise for its distinct vibe, eclectic program, and attention to presenting regional talent. One of the year's most unforgettable electronic music festivals will undoubtedly be Hoi An Chronicles 2023.
Don't worry if you missed Hoi An Chronicles 2023. In 2024, the festival is anticipated to return. For further information and updates in the interim, see the festival's website. See you next year!