Recognized as one of the most beautiful cities in the world with a charming ancient architect and a unique culture mix, Hoi An Old Quarter (Hoi An Ancient Town)is a must-visit destination for both domestic and foreign visitors.
Referring to the fact that there are no direct flights or trains to this antique city, the best option is certainly taking a flight to Da Nang and then getting from there to Hoi An by other transportations. These two cities are separated by just around 25 kilometers. And along with their development, a plenty of transport modes are available with reasonable fees, so transfer is easier than ever. You can make your journey by catching a public bus or taxi, reserve an airport shuttle or renting a private car or motorbike. Accompany with Danang Leisure to the end of this article to have an overview of some transport methods before making your decision.
PUBLIC BUS (known as the yellow bus)
For tourists to reach Hoi An with ease, bus route number 01 has been put into use since 2015. With the ticket price ranging from 25.000 VND to 30.000 VND for each turn, this is a perfect option for those who are travelling on a budget. Sharing a bus with the locals and immersing yourself in their culture must be a worthwhile experience.
However, bear in mind that it costs you a little amount of money but might take you a little longer to get to your destination. Furthermore, this bus can only accommodate small bags, so if you are travelling with big suitcases, find another transport mode. There are various stops along the way. Therefore, check the information below to find out the closest one.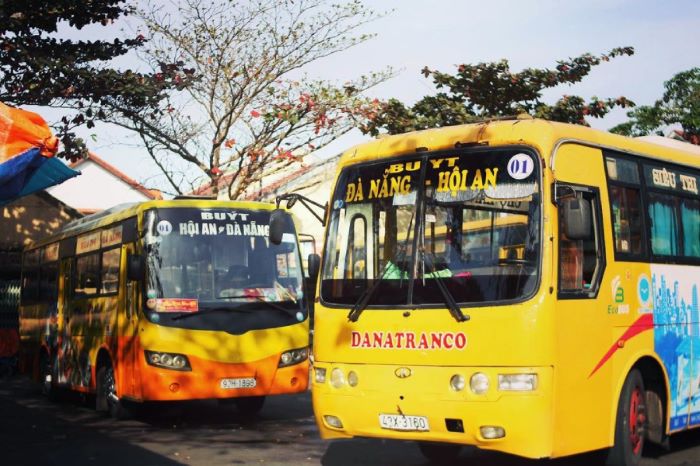 Bus route Da Nang – Hoi An:
Outbound direction: Danang Central Bus Station – Ton Duc Thang Street – Dien Bien Phu Street – Le Duan Street – Tran Phu Street – Trung Nu Vuong Street – Duy Tan Street – Nguyen Van Troi Bridge – Ngu Hanh Son Street – Le Van Hien Street – Hoi An bus station.
Inbound direction: Hoi An bus station Street – Le Van Hien Street – Ngu Hanh Son Street – Nguyen Van Troi Bridge – Bach Dang Street – Phan Dinh Phung Street – Yen Bai Street – Le Duan Street – Dien Bien Phu Street – Ton Duc Thang Street – Danang Central Bus Station.
Operation time: Depart from 5:30 am – 6 pm with 1 bus every 20 minutes.
1 way ticket price: about 25.000 VND-30.000 VND/ticket.
Moving time for each turn: about 70 – 80 minutes
SHUTTLE BUS
Comparing to the local bus, you need to pay a bit more for transfers by minibus. In return, you will be picked up directly from Da Nang Airport or railway station and taken straight to the door of your accommodation in Hoi An. The cost per person is around 100,000 VND ($4), and they run every hour from 5.a.m to 11.p.m. You can book a shuttle in advance so that you can organize your itinerary and map out your plans.
Read the details of the shuttles from Da Nang city to Hoi An and book a suitable one at a great rate here.
PRIVATE CAR OR VAN
If you go in a group and look for a private transfer because you don't want to mess around with buses and taxis or share the ride with other passengers, you should consider renting a tourist car or van and a driver. It's comfortable and convenient. You can stop anywhere you want on the way. In addition, you can save your time by not waiting to gather other relevant passengers and then do the rounds as everyone gets dropped off at different stops in Hoi An like public buses.
The rental price ranging from 200.000 VND – 300.000 VND/4-seater car/way, 400.000 VND – 450.000 VND/7-seater car/way or 500.000 VND – 600.000 VND/16-seater car/way. If you do not know where to rent a quality car with good services, you can refer to some following car companies:
| | |
| --- | --- |
| Đà Nẵng Transfer | 0949 537 755 |
| Đà Thành Car Company | 0511.3.55.00.22 |
| Vũ Khoa Tourism | 0511.3.552.768 |
| Quảng Đà Thành Tourism | 0511.3.638.638 |
TAXI
Taxis are readily available outside Da Nang airport terminal during the day. Prior arrangements are not required. You just need to hand over your destination address to the driver and then he will take you there.
Nonetheless, this is the most expensive option and it is very easy to get into paying much more than the amount you expected. If you take a taxi, make sure that they use their meter and it works correctly during the journey, or you can make a price deal upon entering the cab. A good price is around 500.000VND for 1 way.
Danang Leisure had listed some reputable taxi brands that offer transfers between Da Nang and Hoi An so that you can easily contact and make your reservation
Da Nang taxi
---
| | |
| --- | --- |
| Taxi Mai Linh | 0511.3.52.52.52 |
| Taxi Sông Hàn | 0511.3.72.72.72 |
| Taxi Tiên Sa | 0511.3.79.79.79 |
| Taxi VinaSun | 0511.3.68.68.68 |
Hoi An taxi
---
| | |
| --- | --- |
| Taxi Hội An | 0510.3.919.919 |
| Taxi Mai Linh | 0510.3.92.92.92 |
| Taxi Faifo Hội An | 0510.3.91.91.91 |
MOTORBIKE TAXI
In Western countries, people might not be familiar with travelling by motorbike taxi but it is very popular in Southeast Asia and has been stable in Vietnam's transportation scheme for decades. If you carry a hand luggage only, do not miss this chance to experience a journey that is "so Vietnamese" with traditional "xe ôm".
It is easy to wave to a driver outside the airport. They wait for customers all day and the price depends on your negotiation. However, almost of these drivers are not good at English, so make sure they know where you are going by bringing a map or the written name of that place.
MOTORBIKE
Save the best and most exciting for last. Motorbikes are preferred by many Vietnamese locals. Driving a motorbike allows you for flexibility with a quite cheap rental fee. You just need to pay around 100.000 VND – 180.000 VND/day not including fuel expenses. If you intend to rent for a week or longer, there would be some discount.
Before making your decision, be mindful of the heavy traffic in Viet Nam. It will be your once-in-lifetime experience to explore the nooks and crannies of bustling in this country but put your safety in priority and do not take this risk if you are not an experienced driver.
Here are some places offering you quality motorbikes in Da Nang:
Bình Minh:
Contact number: 0879 698 886
Address: 36 Tạ Mỹ Duật Street, An Hải Ward, Sơn Trà District, Đà Nẵng
Rental fee: 80.000 VND – 160.000 VND/day
Sông Hàn:
Contact number: 0905 304 050
Address: 86/26 Thi Sách Street, Hòa Thuận Tây Ward, Hải Châu District, Đà Nẵng
Rental fee: 100.000 VND – 100.000 VND/day
Gia Huy:
Contact number: 0903 529 586
Address: 126/6 Trần Cao Vân Street, Tam Thuận Ward, Thanh Khê District, Đà Nẵng
Rental fee: 150.000 VND – 180.000 VND/day
Bảo An:
Contact number: 0886 512 999
Address: 14 Nguyễn Thiện Kế Street, Phước Mỹ Ward, Sơn Trà District, Đà Nẵng
Rental fee: 80.000 VND – 150.000 VND/day
Grab Car or Grab Bike
Now you can book Grab from Da Nang to Hoi An by bike or car (if you go with many people)