Vietnam is well-known for various traditional festivals that are celebrated widely in all three regions. Among those festivals, Tet Doan Ngo is one of the biggest and warmest ones. Although it is not as grand as the Lunar New Year, it is also an important occasion for family gatherings and reunions.
Tet Doan Ngo is usually held on 5th May of the lunar calendar, which is why it is also called Double Five Festival or Double Fifth Festival. "Doan" means beginning, and "Ngo" is a term referring to the time duration from 11 am to 1pm. "Doan Ngo" occurs when the distance between the Earth and the Sun is shortest.
Bánh Tro is very famous
The festival originated from the Dragon Boat Festival in China, and it is now celebrated in several Asian countries such as Vietnam, Taiwan, and North Korea. In Vietnam, Doan Ngo Festival is locally called the "Killing Insects Festival". So on this day, people usually eat products from rice and fruits to kill all the pests in their bodies and soul.
Legend Of The Double Fifth Festival In Vietnam
One day, after an abundant harvest, farmers were celebrating a great crop and then a large swarm of insects suddenly appeared and ate all the crops harvested. The farmers were surprised and did not know how to stop those hungry insects.
Luckily, an old man called Doi Truan came and instructed each family to make a feast with different types of fruit and a special cake named Banh Gio. He explained that on this day every year, insects tend to be very aggressive and farmers should prevent the insects from destroying harvests with products that are made by the crops themselves. The farmers followed his words and magically, all the insects disappeared. Since then, local farmers named the day "Killing Insects Day", and still retain the tradition of eating fruits and rice products to pay tribute to the wise old man.
Since all the food that people eat on this day is made from natural crop products, the festival is also an occasion in which people can balance their meals with light food.
Popular Food That Vietnamese People Eat On The Double Fifth
To "kill the insects in your body", there are various choices of food that would take down all the harmful bugs. In Vietnam, each region has its own traditional dishes:
Northern Vietnam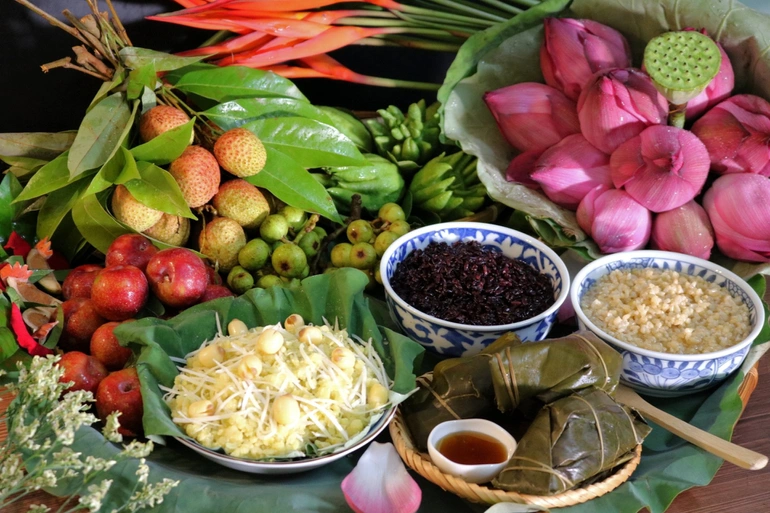 1. Bánh Tro (Ash Rice cake with Mung Bean paste)
Banh Tro is a type of cake made from sticky rice and water drained from ashes and wrapped in banana leaves. The filling of this pyramid-shaped cake is a sweet mung bean paste, adding sweetness to the taste.
2. Cơm Rượu (wine rice)
Com Ruou is probably the most popular dessert of the festival which has physical and spiritual cleansing. The alcohol in this dessert is believed to be strong enough to kill all the bugs in your body.
3. Herbs
Many families usually use leaves and herbs to kill all the pests in their family.
4. Fruits
Fruits are one of the most important crop products that are believed to kill the bug at the root. Some fruits which have a sour taste are commonly eaten on this day like mango, pineapple,… Many families also prepare seasonal fruits such as lychee, rambutan, and peach,… to wish for an abundant life.
Central Vietnam
1. Wine Rice
Com Ruou is not only a popular food on Tet Doan Ngo in Northern Vietnam, but also in Central Region. However, in Central Vietnam, com ruou has a different flavor and is cut up nicely in small square shape.
2. Duck
Boiled duck has been served as the main dish during lunch at Tet Doan Ngo in Central Vietnam for a really long time.
3. Banh Ke
Banh Ke is a type of crispy rice paper, dipped in a yellow sauce that is made from a kind of cereal called "Ke". Banh Ke has light sweetness and good smell, usually used before breakfast in Tet Doan Ngo.
Southern Vietnam
1. Banh Troi
Banh Troi is a type of sweet made with rice flour and green beans in the middle. In Southern Vietnam, on Tet Doan Ngo, local families usually knead "Banh Troi" and place it on the family altar.
2. Banh U Ba Trang
Banh U Ba Trang is a type of sticky rice cake that originated in China. It is made with rice, green beans and some other ingredients like dry shrimp, pork,.. and wrapped in banana leaves. The taste of Banh U Ba Trang depends mainly on the maker. Therefore, if you have a chance to try Banh U Ba Trang in many families, you will see each one of them all have a unique taste.
3. Com Ruou (Wine Rice)
In Southern Vietnam, com Ruou is made with round shapes and is easy to eat.