Thua Thien Hue Department of Tourism organized to welcome the first direct flight connecting Thua Thien Hue with Seoul, South Korea.
On August 1, the Thua Thien Hue Department of Tourism coordinated with related units to welcome the first direct flight connecting Thua Thien Hue with Seoul, South Korea. This is also the first flight from Incheon International Airport to the new terminal of Phu Bai International Airport in Thua Thien Hue province.
The first flight connecting Hue with Seoul is operated in the form of a charter, bringing people and tourists from Hue to Seoul and vice versa.
The charter flight of Vietjet departing from Phu Bai International Airport has 228 passengers from Thua Thien Hue Province. There is a delegation to promote tourism and the cultural heritage of Thua Thien Hue led by Mr. Nguyen Thanh Binh, Permanent Vice Chairman of Thua Thien Hue Provincial People's Committee. They will meet and promote tourism and heritage in Seoul and Goechang City (Korea).
In the afternoon, a delegation of Korean travel businesses and media with 151 passengers from Korea will come to Hue to survey activities and programs to bring more Korean tourists to the ancient capital of Hue and the Central Heritage Road.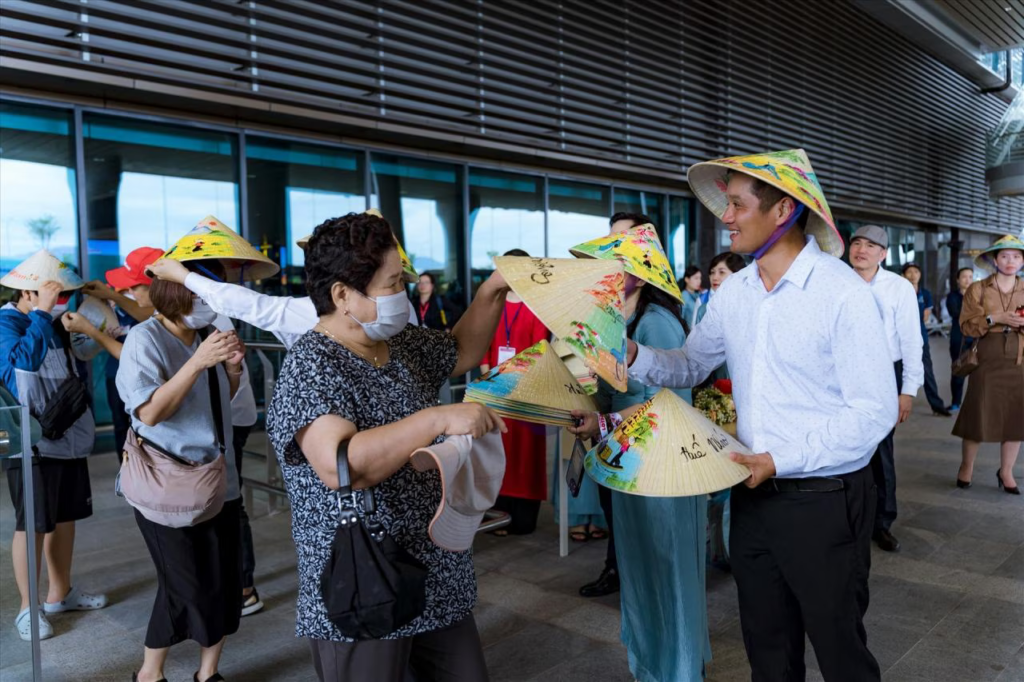 In Hue, the Korean delegation will visit and survey for four days and three nights. Specifically, the delegation will have activities to explore and experience destinations and products that have been researched and selected by the tourism industry of Thua Thien Hue and Korean partners. They will be introduced to new products associated with a new locally made form of relaxation and health care and also experience Zen – Tea of spiritual tourism.
Besides, they will visit the exhibition and the tailoring performance of Hue traditional ao dai, and enjoy the typical forms of Hue cuisine and Tam Giang lagoon seafood. Some members of the delegation will experience the golf program, and participate in an exchange tournament with Thua Thien Hue Golf Club.
The leader of the Thua Thien Hue Department of Tourism said that this first flight connecting Thua Thien Hue with South Korea is expected to make a strong move to contribute to the recovery of the Korean tourist market. Since then, they have aimed to have more charter flights from Korea to Thua Thien Hue and maintain the Korean tourist market at the top of the major international tourist markets to Thua Thien Hue Province in the upcoming time.