For those who are Jazz music lovers, you cannot miss out on this lovely, emerging chill lounge in Da Nang, C Lounge. It is located at one of the entertainment venues, Le Quang Dao Street, and only takes a 5-10 minute walk from My Khe Beach, the bar is expected to become the new breeze to nightlife lovers from everywhere with high-quality shows of Jazz live music, DJ performances, comfy chairs, vibrant atmosphere and a vast selection of beverages and food. This is also one of the rare lounges in Da Nang that pursues and reflects the spirit of Asian culture through its decor and interior. This lively bar will definitely be an interesting and unique place for a romantic date or a gathering of friends or family.
Asian-style spirited decoration
When I came to this lounge, the interior and decoration were the big attractions to me. Unlike other lounges with Western style, C Lounge is one of the rare bars in Danang that builds an aesthetic Asian style. The interior here exudes harmony typical in many Eastern cultures such as the lanterns, the huge Dong Ho painting, a well-known kind of Vietnamese folk woodcut painting. At the entrance, the chandeliers are designed in the shape of a Vietnamese oil lamp as well as the extremely traditional Chinese soroban on the front of the bar. Furthermore, there is a huge picture of Asian girls adorned on the wall that caught my eye immediately because of the soft feminine beauty.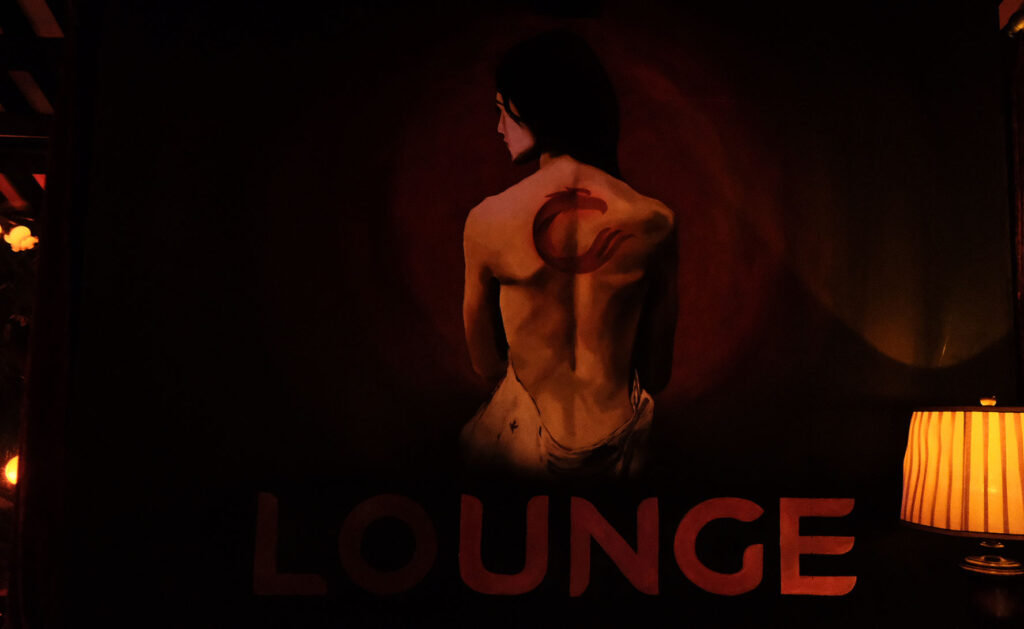 All this traditional, delicate beauty derived from the owner's endless passion for Asian culture that led him to this brainchild. "C is an abbreviation of the word for culture. I am very fond of Asian culture, so I came up with the design ideas myself as well as participated in the completion of my lounge. Every detail was taken care of little by little" the devoted owner shared. His wonderful sense of décor is evident in how the inside is set up.
There are two main areas, one is designed to be the perfect speakeasy where you can have a relaxed chilled vibe to tell your stories with your friends and enjoy delicious cocktails from professional bartenders. With a diverse list of drinks from classic to signature cocktails, the bar meets the requirements of fastidious visitors. The remaining area is for those who love to listen to Jazz live music and dance to Latin Techno House Music performed by professional Jazz bands and talented DJs.


Signature Cocktails and Mouth-watering Food
Because I got to the bar quite early before the show time, I chose a seat in the bar area so that I could easily explore and have a chat with the bartenders about the drinks there. To my sweet and sour taste, a bartender offered me a Danang Lady cocktail, which would be the opening for an exciting night of excursions waiting for me ahead.
With skillful hands, along with masterful technique, he quickly brought me a fantastic cocktail. I was truly intrigued instantly by the decor of the drink. My glass exuded the soft beauty of a young woman, and I think this glass will surely bring satisfaction to the ladies who come here on a date. When I took the first sip, this marvelous cocktail made of Lady Trieu gin, lychee liqueur, lime, rose syrup, and egg white had me hooked immediately. I complimented incessantly that no softer, sweeter fruit flavor could be imagined with this amazing drink. It created a feeling of excitement and urged me to kick off some interesting conversations with my friends.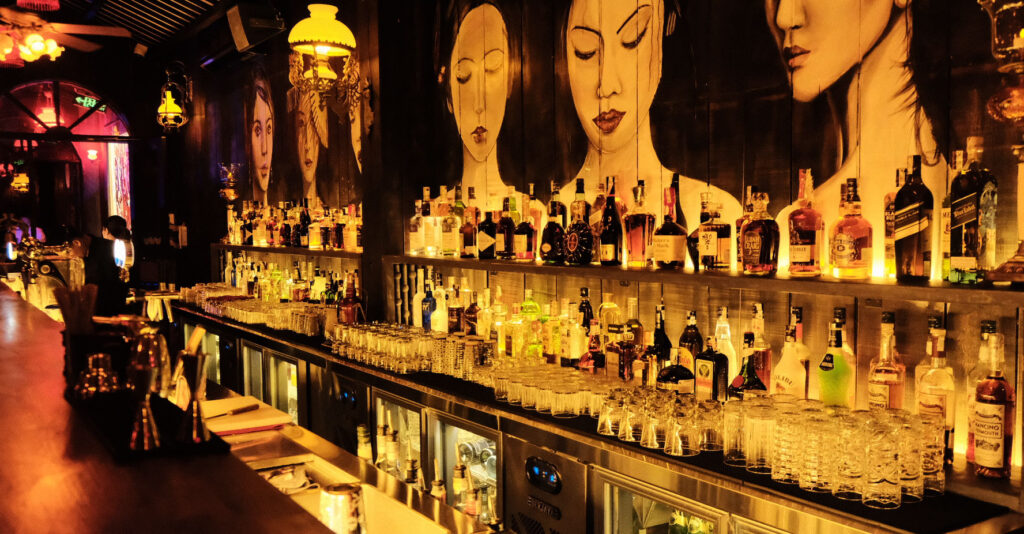 In addition to this drink, the bartender also offered my friend one of their signatures called C Lounge Cocktail. He explained what inspired him to create this special drink was the taste of one of the most famous dishes in Central Vietnam, Vietnamese Spicy Beef Noodle Soup. "Each regional culture has its own identity and its magic flavors. There are no boundaries to what one can create with local ingredients. Therefore, that is why I can constantly create an array of food-inspired cocktails" he added. The special drink is made of Song Gai gin lime, basil leaf, lemongrass, ginger, sugar, and tonic. With many herbal tastes, this drink is definitely suitable for those who love delicious, low-alcoholic drinks when you get to C Lounge to enjoy good Jazz music.
In addition to great beverages, the food menu is diverse with a combination of Asian and European dishes. I really love and highly recommend the dish called Bruschetta Italian. This irresistible, appetizing thing is made of crunchy toasted bread slices topped with a mix of marinated tomatoes, meat, cream sauce and coriander.
Vibrant Atmosphere with Jazz live-music Performance
After moving to the live music room, I quickly felt the excitement not only from the Jazz band but also from the eager visitors. A range of well-known jazz songs perfectly performed by talented singers made people immerse into the lively atmosphere and constantly sway their bodies. Each show will last about 2 hours, from 8:30 p.m. to 10:30 p.m. on three weekends. Along with the ingenious combination of musical instruments such as piano, double bass and the drums, I felt like I was drawn into the magical music space and could not leave my place until the last note had been played. "That is one of the most wonderful live-music shows I have ever heard" my friend complimented.
However, it doesn't stop there. The DJs performance really heated up the night with a wide range of the most intense and powerful techno soundtracks. I had to leave my chair and pop up a dance following the rhythm. Everyone in the room was filled with joy from the freshing energy that the talented DJs infused to them.
C Lounge is definitely one of the most fabulous Jazz live-music lounges in Da Nang with a wide selection of high-quality cocktails and food at a reasonable price. This lovely lounge with great hospitality will not disappoint you when you have a chance to visit there.
Hours of operation: 4:30 pm – late (with an early Happy Hours offer)
Location: 100 Le Quang Dao, Da Nang
Hotline booking table: 098 481 88 80
Facebook: https://www.facebook.com/CLoungeDanang