Each person will have a favorite coffee shop, which they can select based on the objective of the coffee day. It might be a coffee date with friends, a coffee day when you simply need to bring your laptop to work on a project or study, or a coffee time when you just need a quiet spot to read and listen to music. However, you absolutely find yourself in a corner like that in the Duoi Hien Nha coffee shop. All three objectives, but only in one place. Too reasonable, right? Let's explore Duoi Hien Nha with Danang Leisure!
About Dưới Hiên Nhà Coffee
The song Duoi Hien Nha, which rapper Den Vau performs, will not seem too unusual to Vietnamese believers who enjoy classics and chill music. The modest cafe at the intersection of Tran Van Du street has been given the name of the shop because it loves this song.
(Vietnamese) "Nếu con đường vô tình đưa ta đến với nhau, thì cùng tìm về em nhé… Ngồi chuyện trò cùng nhau Dưới Hiên Nhà…" – Dưới Hiên Nhà – Đen Vâu.
(English) "Let's find out together if the path happens to bring us together. Duoi Hien Nha, sit down and talk with me…" – Rapper Den Vau – Duoi Hien Nha song.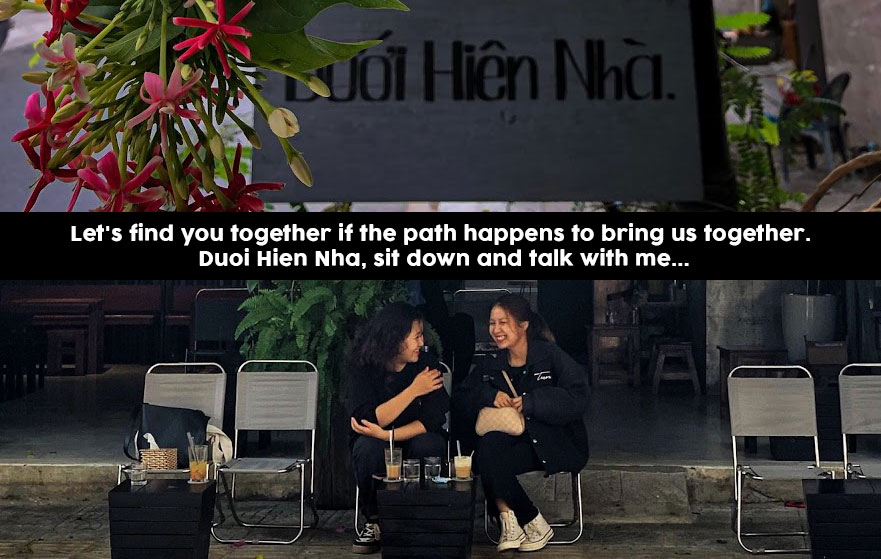 A really dreamy song with a laid-back vibe that loves the straightforward emotions of a couple who met and talked on the porch by chance. In this sense, the Duoi Hien Nha's front can be considered a fantastic setting for stories.
The ideal business is Duoi Hien Nha, which describes itself as a friendly and intimate coffee shop. According to the sign, they are not in the coffee business; rather, they are interested in your feelings, which coffee can assist to enhance by acting as a catalyst.
As a result, there aren't a lot of items on the restaurant's menu, but there are also enough basic drinks, such as coffee, tea, refreshing summer juices, and fresh fruit smoothies.
Duoi Hien Nha for stories
The store is distinctly divided into three areas, I think each of which serves an entirely different purpose.
If you go out with friends, you might wish to spend more time chatting and exchanging commonplace stories while sitting on the porch and taking in the street scene and the passing traffic. It would be fantastic to be right next to his friends.
My buddies are seated next to the small table, which has enough for a few cups of water. Vietnamese style: tight spaces that progressively get closer.
The wind occasionally blows beside while sitting beneath the confetti. Days in the fall would be wonderful to spend here. Although there was still some summer heat, the first winds of fall were beginning to blow. Although not too harsh, the sun gradually grows kinder. A cup of flavorful coffee and a glass of green tea on the porch will make for a wonderful morning.
Working space inside of the house
Just as the front porch is great for socializing and chit-chatting with friends, the internal space is ideal for work.
A compact but comfortable area. The desks are large enough to accommodate many books, a laptop to start a meeting and meet a deadline, and productively finish assignments.
The design of this decoration for a tiny space is pretty appealing. A tiny aquarium filled with colorful fish is in the center, and a shelf full of books is located next to it. Being in this room makes me really desire to work hard because it is light, uncomplicated, and energetic.
However, a drawback is that the music is played a little too loudly in the store, especially if you're inside. However, if you want to focus more on your job, you can directly request that the vendor turn down the music.
The music played here is also from carefully chosen playlists that the proprietor of Duoi Hien Nha may like to offer. In the relationship between coffee and music, he thinks that music might engender feelings and delight. A nice day is guaranteed if you know how to put them together. There are not many cafes that can play a playlist like this which I truly appreciate.
Green land is a perfect choice for chilling with your books
A calm location is created by the tales in front of the home, the work within, and the greenery behind. This area is perfect for an afternoon of reading or for restful afternoons spent by yourself.
A large open area outside that is mostly tree-adorned. A serene, calm, and open green area has been established beneath the porch. The location in the back of the shop between the houses and the moderately loud music gives the impression that you are distant from the city but still in the calm heart of the countryside.
It is perfect for sitting beneath this green area on a morning or a sunny day with autumn winds. If you don't mind the sun and wind, this is exactly a great sitting position!
The fan page for Duoi Hien Nha is also absolutely interesting because it frequently posts lovely stories from the store or the owner's personal posts about life, music, and untold experiences. Additionally, you can update additional cafe information here.
That being said, it does not restrict you from sitting with friends. This will be a fascinating location as well. However, come to Duoi Hien Nha coffee shop to experience a variety of fascinating, leisurely things, and bring really nice energy, unwind, and chill.
Duoi Hien Nha has an exceptional location near the beach, but there are also many delicious dishes around, and it's also near Bac My An market. It would be a great day to buy some delicious snacks and enjoy them on the porch with friends.
Address: 115 A Trần văn Dư Street, Ngũ Hành Sơn district, Da Nang city.
Open time: 7:30 AM – 10:00 PM, everyday
Price: 20.000 VND – 35.000 VND