Viet Nam is a country famous for coffee and I think it's not too weird to say that Viet Nam is one of the coffee paradises in the world. In Vietnam, we have a lot of kinds of coffee and  we are always creating new drinks combined with other ingredients like eggs, salt, milk, and coconut. You will have a new experience with one of those ingredients because coconut coffee is one of the best things you should try when you come to Da Nang!
About coconut coffee
Coconut coffee is a drink with a name that describes exactly the way it is made and all the ingredients in it – coconut and coffee. 
Coffee is an energy drink that we grow and manufacture in Viet Nam. This is a drink that we can not live without. And day by day, it's become our culture. Coffee has a lot of benefits that are good for health which include increasing energy. Not only the Vietnamese but people from all over the world also love it.
Coconut coffee is the perfect way for Vietnamese people to combine the fat of coconut with the bitterness of coffee, making the coffee more flavorful. Besides that, they also top the drink with some dry coconut which makes coconut coffee more interesting.
When baristas make this kind of coffee, they prepare two different parts- a coffee glass and a coconut smoothie. Coffee lovers who enjoy coconut coffee will slowly pour the coffee into the coconut smoothie. Depending on the taste of the different people, they can pour a little coffee or all of it. Some people prefer to drink the bitter flavor of coffee, some people love the sweet flavor of condensed milk, and some of them enjoy the fat of the coconut. Each different flavor will create a different feeling. The bitter flavor shows the customers the true essence of  Vietnam's coffee. The sweet taste balances the bitterness of coffee and the fat of coconut. Both coffee and coconut are agricultural products from Vietnam- the coffee is planted in the highlands, and the coconut from the South of Vietnam. Coconut coffee is combined with two agricultural products which is the pride of Vietnamese.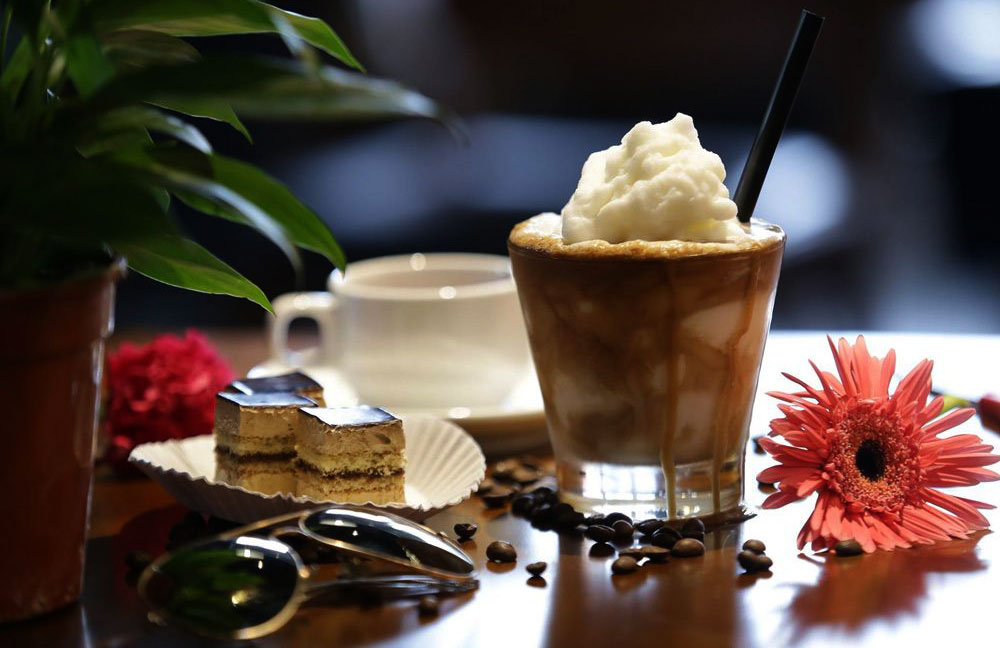 Where can we find the best coconut coffee in Da Nang?
1. Brewman Coffee
Brewman Coffee is a well-known place for coconut coffee in Danang. There are two coffee shops which are located on two different streets (In Thai Phien Street and Tran Hung Dao Street).
The coffee is made with fresh, young coconuts, which gives it a light and refreshing flavor. Besides that, they also have sweetened condensed milk that offers customers a rich and creamy flavor. This is also the perfect idea for a summer day or hot day because they are served cold, combined with a young coconut shell which is so fun for chewing.
Brewman also offers their customers the traditional coffee – called Phin Coffee which is considered as the soul of Vietnamese coffee. There, you can enjoy the way they make coffee with an open bar. Besides that, they also have a good pour of coffee or Cold Brew.
The coconut coffee in Brew Man is considered one of the best both local people and international tourists agree.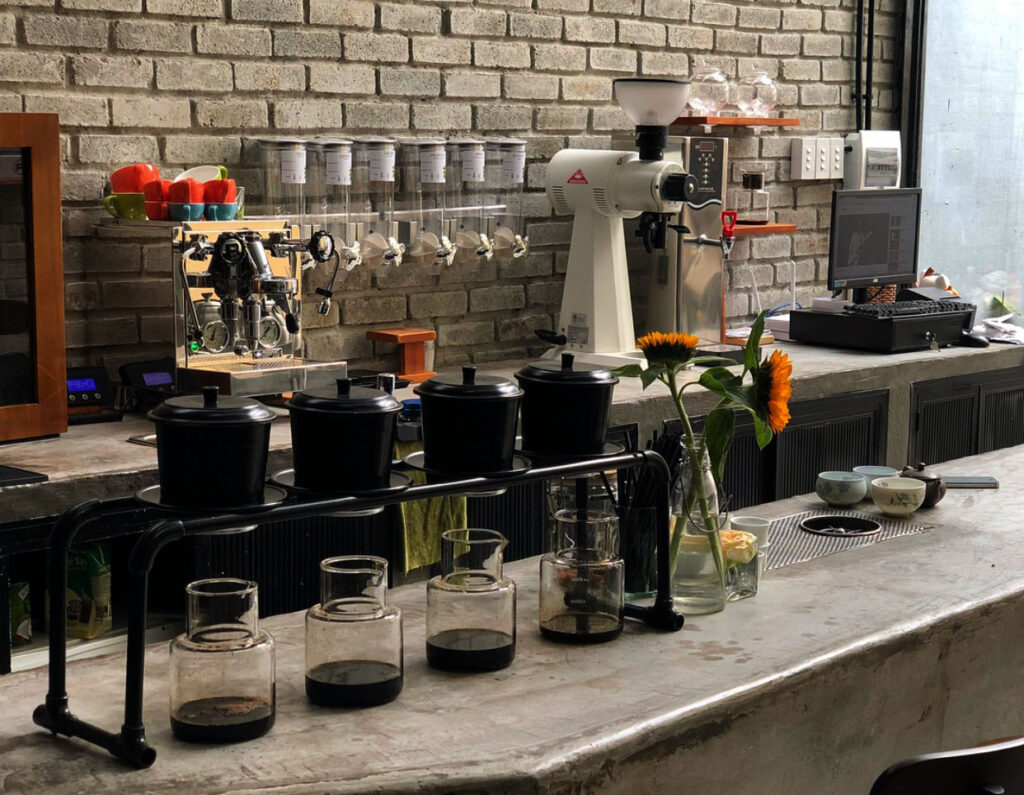 2. Cong Ca Phe
Founded in 2007, Cong Ca Phe is a chain of Vietnamese coffee shops with over 100 stores in Vietnam comprising the system. They have also spread to other nations like South Korea.
The distinctive way that Cong Ca Phe makes traditional Vietnamese coffee has made it famous. The brand employs a distinctive blend of in-house roasted coffee beans, and they also provide a selection of unusual coffee concoctions, like coconut coffee and egg coffee.
Cong Ca Phe is very famous in Viet Nam for local people and also international tourists.
You can find Cong Ca Phe everywhere, just pick one and enjoy your coconut coffee!
3. Trinh coffee
Trinh Coffee is a familiar brand of coffee in Da Nang City with numerous fans because of its atmosphere. There are 3 locations where Trinh Coffee is located and you can choose the closest branch to your area.
The first and also the most famous one is located at 01 Le Dinh Duong Street. The second branch is the biggest one which is at 34/3 Nguyen Huu Tho Street, exactly near the airport in the heart of Da Nang City. And the last one stayed in Hoa Khanh District, Pham Nhu Xuong and the newest one and just opened this year.
Trinh Coffee is really famous for drinks made from avocado and coconut. Their signature drinks worth mentioning are avocado coffee, milo avocado, and coconut coffee.
All ingredients used to make drinks are always fresh and they come from the highlands which are known to produce the best fruits in Viet Nam. 
Cong Coffee, BrewMan, and Trinh Coffee are the big brands of coffee in Da Nang and they do deserve their fame. If this is the first time you will try coconut coffee, I recommend you try the good local ones. A good first time can give you a good impression about this signature drink of Viet Nam. 
So let's try coconut coffee and share your opinion here!