Phu Luxury is one of the top cigar lounges in Da Nang City and is a must-visit if you like wine, whisky, and cigars. Cigar Cuba Lounge wasn't designed for hurried guys; instead, you should take your time and savor each cigar. This is also the art of the fancy life and gentlemen's way, not just the burning of cigars or smoking of cigarettes. In Da Nang's corner, Phu Luxury offers the ideal setting for savoring cigars with a few bottles of wine. This is the spot that you must visit in Da Nang if you want to enjoy a cigar slowly coupled with a glass of wine in true elegant fashion.
About Phu Luxury Store
The Phu Luxury store is just one kilometer from Han Bridge and is situated in the center of Da Nang City at 124 Hai Ho Street. This is one of the most easily accessible places that you may visit at any time of the day.
Phu Luxury Store was established in 2016 and has been selling wine and cigars in the Vietnam market for 7 years. It was just a little online store at the beginning. Even so, after two years, Phu Luxury Store developed into a luxury lounge where clients could drop by, look around, and explore the merchandise in addition to having a place to relax and enjoy cigars while listening to live music.
Cigars in Phu Luxury Store
This Cigar Cuba Lounge is one of the greatest locations that offers you quality cigars from high-end brands from across the world. It is perfect if you have a love for wine and cigars.
Sharing with the proprietor of Phu Luxury Store, I can tell he is very careful when selecting the cigars. Paying attention to the small details, such as the country of origin, whether this is a great season for cigars, whether the cigars have the highest-quality of leaves, and which cigars have received positive brand reviews.
Before he shares the cigars to his clients, he continues to incubate, preserve, and examine them when they are already within the store to ensure that they maintain the highest quality. He is particularly confident in his ability to inspect the cigars. The cigars are stored in a thick cider box from Italy, with a managed humidity temperature from 69-72.
Cigars in his store are kind of diverse. He has a lot of kinds of cigars, from normal ones to luxury and limited ones. The owner can talk about Cigar Bolivar Belicoso Finos. He has Bolivar 1989, 2019, and also the 30-year anniversary edition in Cuba and exclusively in 5 European countries.
Cohiba Siglo 1,2,3,4,6 and Behike 52,54,56
Cohiba is a well-known cigar brand that was first created in the 1960s for Fidel Castro and other members of the Cuban government. In the 1980s, it was subsequently made available to the general public.
For their excellent quality and reliable construction, the Siglo I and Siglo II cigars are both well-appreciated among connoisseurs. They are often produced with premium Cuban tobacco, which is known for having a distinct flavor and scent. The Cohiba Siglo 1,2,3,4,6 is a premium cigar that Phu Luxury offers you and is readily available in the shop. In addition, the Behike 52 is a highly regarded cigar made by Cohiba, a well-known brand in the tobacco industry that is especially renowned for its great quality and creativity. The Cohiba brand's Behike line, which represents the pinnacle of Cuban cigar-making craftsmanship, is regarded as its most famous line.
Not only does Phu Luxury Store have Cohiba Behike 52, but it also has Behike 54 and 56, which are among the most expensive and desirable cigars in the world. Besides those signatures, you can explore some famous varieties of cigars such as Trinidad Vigia, Montecristo, Hoyo Epic No2, Patargas, Romeo y Julieta, Hupman 54, Connoisseur B,…
About the Lounge and some special offers.
In the very center of Danang, Phu Luxury Store provides a tranquil, luxurious, and convenient setting. The parking lot is located on the ground floor, and the display showroom and a place where customers can spend the night are located on the second floor. From the beginning of the morning until late at night, the shop is open and ready to assist consumers. To have the finest experience ever, I advise you to call and make the reservation before you arrive.
Live Music
Additionally, consumers who desire a little fun can enjoy a particular offer in this Cigar Bar. You can enjoy the melancholic tunes of a local vocalist singing well-known English songs, or you can experience live music played by a band that includes the entrancing sounds of the violin, guitar, and saxophone. You can be sure that they'll put in carefully to give you a memorable experience that is enhanced with a variety of premium wines and cigars.
Wine and whisky
We cannot refuse to enjoy wine and cigars at night. But cigars and whiskey also make an unbreakable couple. In addition to whisky, Phu Luxury also provides fine European wine. Regarding wines, they have a variety of red wine and white wines that can be used to create beverages that are appropriate for every occasion, with a product concentration in France, Chile, and Italy.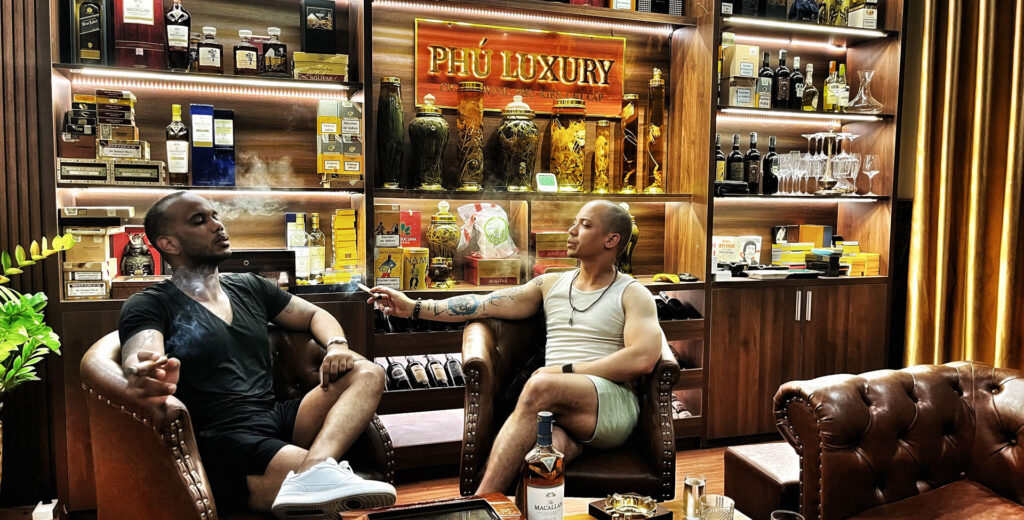 Phu Luxury claims that you can find genuine liquors in their store, like whisky from the United Kingdom, Singapore, Russia, and Japan, like Japanese whisky, Hibiki, Chivas, or Macallan Golden from the UK. Customers from all over the world, whether they are Vietnamese nationals or tourists in Da Nang, attest to the popularity of Phu Luxury Store. About half of their customers are locals, but the other half is made up of a wide foreign customers that includes people from Taiwan, Hong Kong, Korea, and other European countries.
Phu Luxury Store has increased its reach online in addition to through offline channels, making it convenient for clients to buy their products whenever they want. This Cigar Lounge Da Nang is a must-visit for lovers of cigars and whiskey. Enjoy the evening while submerging yourself in luxury with Phu Luxury!
Phú Luxury – Cigar Lounge Da Nang
Address: 124 Hai Ho, Da Nang
Tel: 070 762 4999