A visit to the local markets is undoubtedly one of the quickest methods to become familiar with the way of life and culture of the community. Local cuisine, beverages, and regional souvenirs are all readily available there. Con market is a large local market in Da Nang that you shouldn't skip. Find out what Con Market has to offer with Danang Leisure!
About Cồn market
Near the Go Da Nang shopping mall area, Con Market is located on the corner of Hung Vuong and Ong Ich Khiem. This is a great place to go around because it is in the center of the city and is quite noticeable.
Ong Ich Khiem route and Hung Vuong street are the two main streets that run through Con Market.
For the locals, Con Market resembles a shopping center. When you visit Con Market, anything is available. You will also gain experience from eating, shopping, and purchasing fresh food on a daily basis in the same way as long-time market-goers like the Vietnamese.
Typically, Da Nang Con Market is open from 7 am until 7:30 pm. Yet, many outside restaurants continue to serve patrons far into the nighttime beyond 7:30 a.m. Every day from 15:00 to 18:00, the market is at its busiest. More stalls are sold during this time, and there are also more visitors than at other times of the day, turning Con Market into a center for tourist leisure and check-in.
What does Cồn markets have?
Con Market is also referred to by the locals as "Culinary Paradise" because you may experience numerous delicious dishes there. From the indoor food court, which is open all day, to the food vendors that open in the afternoon next to the market gate, or even simply little snacks. This is a great place to choose dry souvenirs for family and friends in addition to eating there.
1. Second Hand bazaar
Purchasing second hand goods at the Ong Ich Khiem market gate is one of the most enjoyable, anticipated, and activities that support the Con market.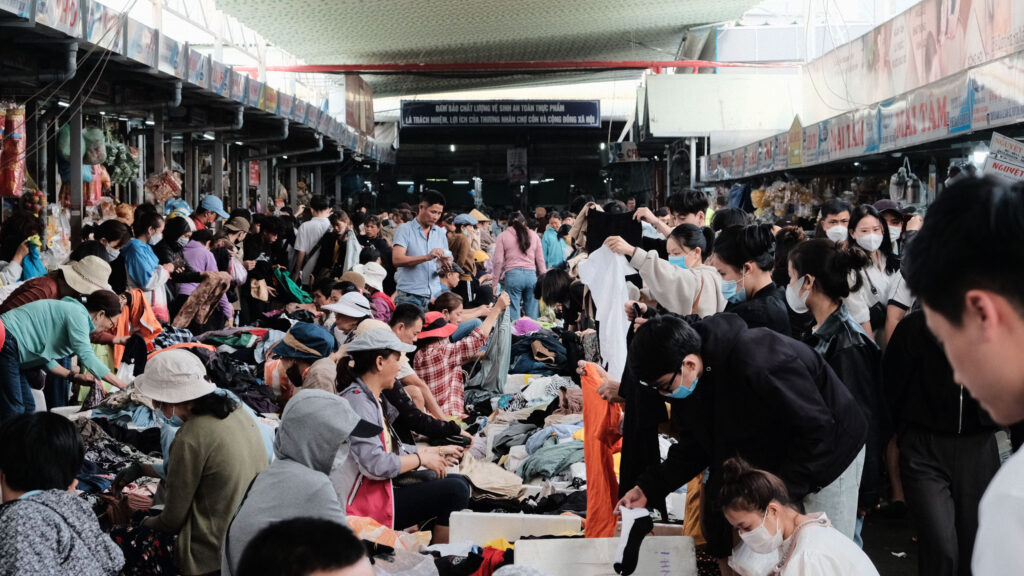 Every day between 15:30 and 16:00, there are sounds of scooters, uncles, and aunts opening the way, and motorbikes rolling as they transport clothing into the market's center. Several boxes of used clothing were then laid out on blankets on the floor. Whether you're looking for a t-shirt, dress, skirt, jeans, or a blazer shirt, you may find any clothing item here for a very low cost.
You can purchase a used item for between 5,000 and 50,000 VND. Of course, the quality will be poor for such cheap things. Yet, if you're lucky, you might also discover lost branded goods there. And it goes without saying that you have to squeeze yourself into the clothing as other visitors pick up and set down items until you find the one you want.
Although the quality isn't great and the cost is low, simple activities like shopping for clothes with friends, shouting with excitement when you find a branded item, finding discounts, etc., make the experience more enjoyable and exciting. This is not just a business, this is also a way that the locals here can enjoy themselves and find fun.
2. "Food paradise" in the heart of Cồn market
You can enter directly through the market gate on the side of Hung Vuong Street or through the way of the second hand bazaar (Ông Ích Khiêm street). From here, food heaven will appear before you.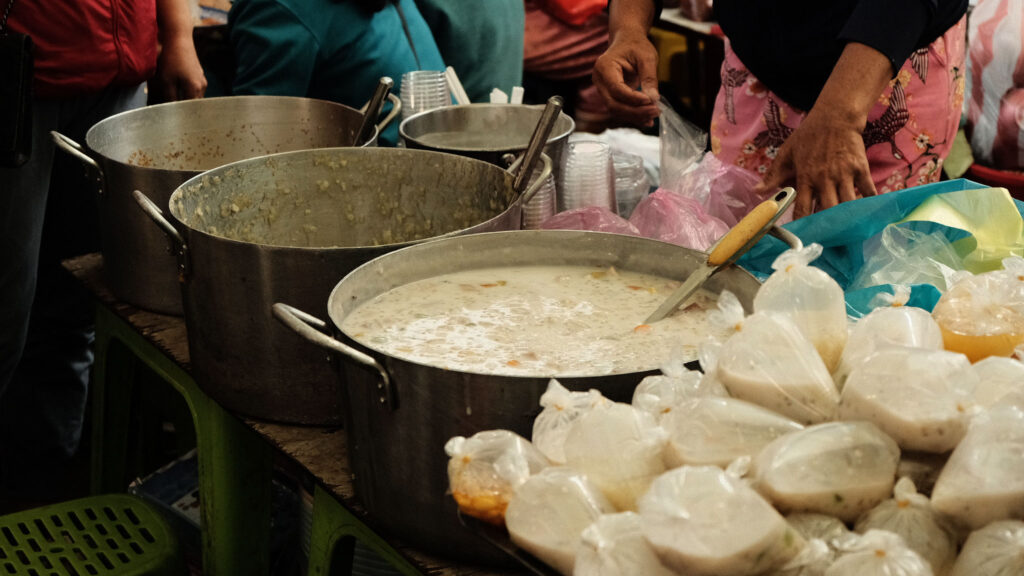 There are numerous dishes here, all arranged on convenient tables close together. There are not many places for the guests to sit. The price is quite low, but there are only a few little stools, allowing the guests to sit close together in front or on either side. Several wonderful meals, from sweet to spicy, vegetarian to main dish, may be found at this food market.
And specifically, only the dishes that are frequently consumed by locals or the dishes that are infrequently served while inviting visitors from abroad. Quang noodles, banh beo, banh bot loc, pancakes, ram cuon cai (spring rolls), balut eggs, mixed jackfruit, and an infinite variety of teas and desserts are also common dishes.
There will be additional choices for hot foods such as beef noodle soup, banh canh, in the indoor market's more spacious food court. Avocado ice cream is among the treats that are frequently suggested here. When the vendor uses only fresh and locally produced products, various types of tea and smoothies are also quite excellent.
There are additional stalls with a wide variety of items next to them, where you may find practically anything. Ask the ladies near there if you need clarification or if you are unsure of the location you are looking for. Everyone in this place is friendly and willing to help.
3. Second floor with numerous fabric
Usually, people only tend to visit the 1st floor for dining needs, and shopping for clothes and food, but few people forget that the 2nd floor of Con market is a multitude of different fabrics.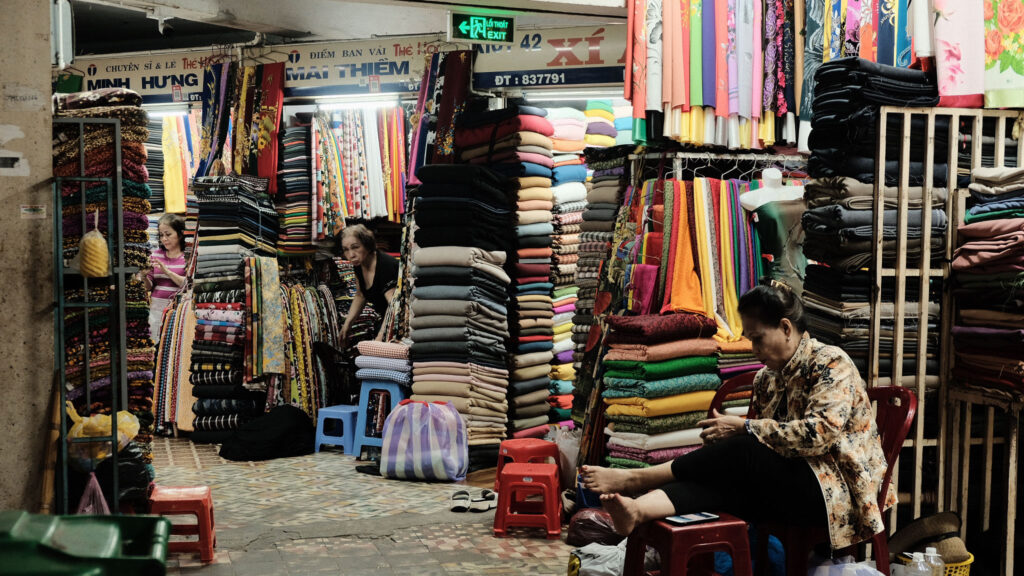 Since the old town of Hoi An is known for its tailors, the second floor in Da Nang is the place to go if you want to pick out wonderful, satisfying cloth with lovely themes for yourself.
4. Other vendors and their goods
Shops offering household items, luggage, handbags, and even gold and silver established shops here outside of Con market.
The clothes stores will be close to one another after you go deep inside. The locals shop in this manner and area.
The section with dried seafood and many more specialties, including dried squid, dried squid with fish sauce, and dried fish with sauce, is on the left. Spicy and salty flavors are combined with a little sweetness to create the dishes here. This is way funnier. This is a fantastic option for gatherings with friends and family for beers.
The fresh market is inside the market, near the back. Every day, fresh fish and seafood. These are totally converged veggies, herbs, and tea.
Con Market is a location to get everything in quantity in addition to being a retail market. All of the items you need to purchase are available here. This is more than just a market; it also symbolizes the culture and beauty of the locals in particular and of Vietnam in general.
If you ever get the chance to travel to Da Nang, don't miss the fantastic experiences in the Con market!