There is no question that Dragon Bridge, one of the most famous tourist attractions of Da Nang, is consistently fascinating to tourists with an outstanding image of a golden soaring dragon. Besides, there is a myriad of unique activities that bring tourists a sense of enjoyment in Dragon Bridge.
As one of the five cities under the central government, Da Nang's departments have always attempted to promote the renovation and stimulate travel demand with a range of impressive architecture and exciting activities for the tourism industry. Therefore, Dragon Bridge's construction began in July 2009 with a shape of an enormous dragon which is 666 meters long, 37.5 meters wide, and weighs more than 2,000 tons, spans the Han River to connect the Da Nang International Airport to the region's most popular beaches and downtown area. It has six lanes of traffic and two vast pedestrian corridors. This groundbreaking architecture was inaugurated on March 29, 2013 to celebrate the 38th anniversary of Da Nang liberation movement as well as honor Vietnam's War heroes and martyrs. This is also an important milestone in Da Nang's history of architecture during the period of the development of tourism.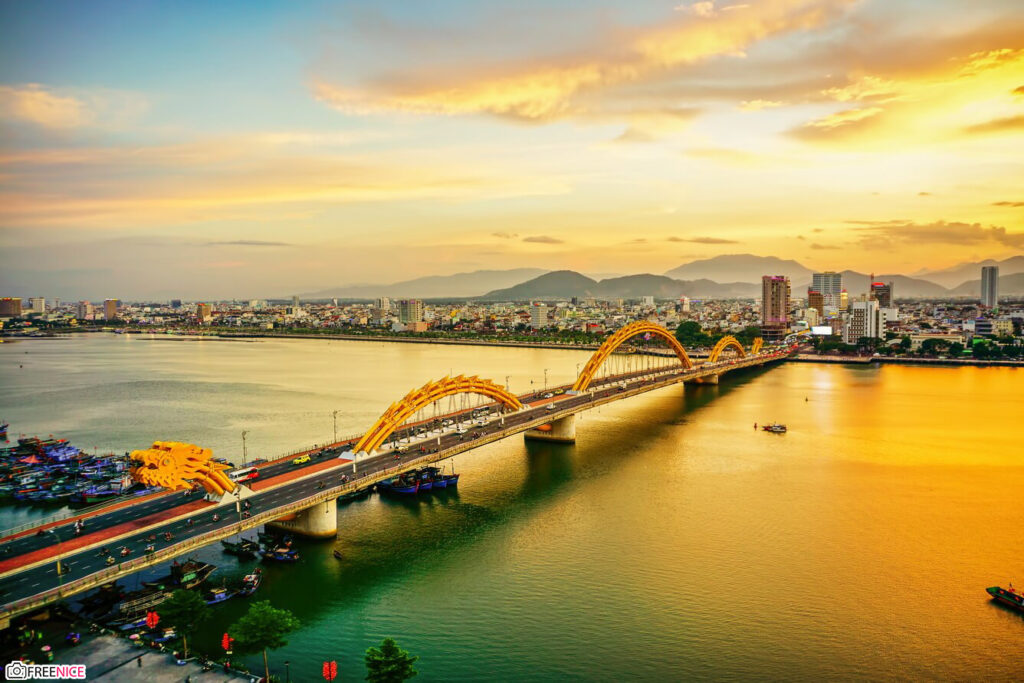 Why did architects take inspiration from the dragon to design this unique bridge? Because of the Eastern cultural concept in general and Vietnamese culture in particular. The golden dragon is a symbol of power, nobility as well as prosperity. Therefore, two architects from the U.S have succeeded in the design of this distinctive undulating dragon bridge. In addition, the bridge has a dragon head design facing the South China Sea with a strong desire to pray for favorable conditions for people in this coastal area to raise bumper crops and create a prosperous life. Coincidentally, since the inauguration of the bridge, Da Nang seems to be less affected by severe disasters than in previous years and the climate is more favorable to develop the tourism industry.
Highlight Activities of The Golden Bridge
Besides walking along the bridge, admiring the majestic scenery, and taking lots of photos of this spectacular architecture, you also take part in and enjoy the following exciting activities.
The Fire and Water Performance
The ideal time to see Dragon Bridge is at night. It transforms into a dazzling dragon with a special effect light thanks to 2.500 LED luminaires which turn into other colors every few minutes. Furthermore, Dragon Bridge attracts a large number of visitors with a fire and water breathing performance in turns in 15 minutes at 9 p.m on Saturdays and Sundays. This astonishing performance totally blows visitors' minds and gives them amazing feelings and an unforgettable experience. However, vehicles are not allowed to pass by during performing time. Make sure that you find and park your bikes in proper parking before enjoying the wonderful show. Remember to avoid standing too close because you may get wet when it spits water.
Exciting Activities under The Bridge
There is a myriad of the featured dancing and music shows under the bridge on the two sides of the banks of Han River on weekends. Moreover, on special occasions, you have a chance to meet famous singers and amuse their performances. In addition, you also enjoy Vietnamese street foods at street stands as all kinds of fried stuff and smoothies are at affordable prices.
Da Nang International Fireworks Festival
Da Nang International Fireworks Festival is taken place annually right in the center of Han River on March 29 and April 30 with lots of professional competitors from all over the world such as the United States, France, Belgium, Japan, and so on. It is expected that becoming one of the most exploding activities in future years in Da Nang. To admire these outstanding shows for free, you could show up at Dragon Bridge as early as possible to take up the best view and enjoy the fireworks shows fully. The atmosphere on this occasion is always exciting and bustling with an enormous crowd, so it is promised to bring you an out-of-this-world experience.
Other Tourist Attractions
From Dragon Bridge, you could easily go on foot to the following list of sites to visit and experience Vietnamese culture.
1. Museum of Cham Sculpture
The museum is just across from the tail section of Dragon Bridge. This ancient site is Vietnam's largest museum showcasing Cham relics. The Museum building was constructed in 1915, and it has the look of early twentieth-century French architecture as well as certain aspects of Cham temples in the central area. It preserves and remains more than 400 artifacts, including National Treasures and numerous works representing the pinnacle of Champa sculpture from the 5th to 15th centuries.It seems to be one of the best places to acquire information about Cham culture and find more interesting things in this historical spot.
The ticket price for tourists is 40,000 VND/ person
Address: 02 2 Thang 9 Street, Binh Hien, Hai Chau, Da Nang, Vietnam.
2. Love Bridge
It only takes 5 to 10 minutes to go from the head section of Dragon Bridge to the romantic bridge. This attraction is a must for couples who want to demonstrate their strong love by locking the padlocks on the bridge and throwing the keys away. You also can ask for sculpting your name and celebrated date into them.
The ticket price is free but costs the padlocks and other souvenirs.
Address: Tran Hung Dao Street, An Hai, Son Tra, Da Nang, Vietnam.
3. APEC Sculpture Park
It just takes 5 to 10 minutes to go on the left from the tail section of Dragon Bridge.
APEC Sculpture Park was officially inaugurated on the morning of January 10, 2022. This new landscape attracts lots of visitors with outstanding dome-style architecture. The best time to visit the park is at night with externally covered lights that offer a variety of stunning color effects.
Address: Binh Hien, Hai Chau, Da Nang, Vietnam
4. Son Tra Night Market
From the head section of Dragon Bridge, it takes 5 to 10 to go on the left to the famous night market. With more than 150 stalls along Mai Hac De Street, they offer a diversity of street cuisine, shopping for cheap goods such as handcrafted products, accessories, and other special souvenirs every night.Address: Mai Hac De, An Hai Trung, Son Tra, Da Nang, Vietnam.
Dragon Bridge direction: