This morning (October 4th), the international cruise ship "Resorts World One" registered in the Bahamas, docked at Tiên Sa Port in Da Nang, Vietnam, carrying nearly 1,800 passengers from the United States, the United Kingdom, France, Australia, Canada, the Netherlands, Sweden, Malaysia, and more. This marks the second visit of this luxury cruise liner to Da Nang this year.
Resorts World One is a modern sea cruise ship built in Germany, with a total tonnage of over 75,300 tons, measuring 268 meters in length and nearly 32 meters in width. It accommodates nearly 2,000 passengers in 928 luxurious rooms, with over 70% of the rooms featuring private balconies and various recreational and entertainment facilities.
During their day in Da Nang, passengers aboard the ship explored famous attractions such as Bà Nà Hills, Marble Mountains, Linh Ứng Pagoda on Sơn Trà Peninsula, the Chăm Sculpture Museum, and indulged in shopping in the city center.
Furthermore, many Resorts World One passengers also had excursions to popular destinations in Quang Nam province, such as Cầu Pagoda, the ancient town of Hội An, Tra Que vegetable village, Mỹ Sơn temple complex, and a boat trip along the Thu Bồn River. The ship is set to depart from Da Nang port in the evening to continue its journey.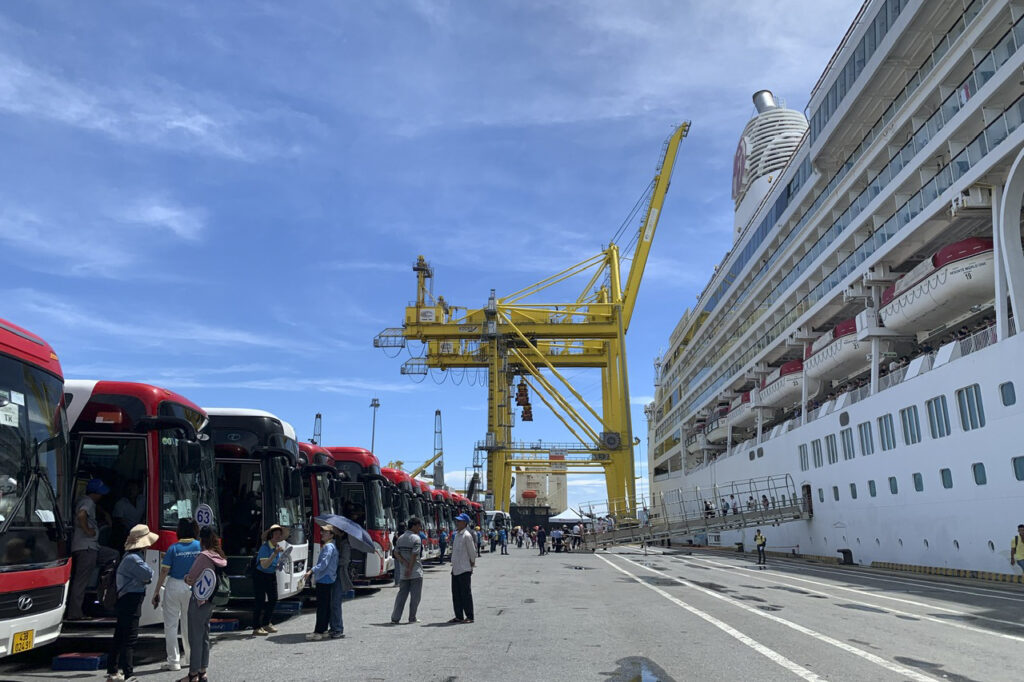 In the first nine months of 2023, Da Nang Port welcomed 19 international cruise ships with 19,500 passengers and crew members of various nationalities at Tiên Sa Port. It is expected that from now until the end of 2023, Da Nang Port will receive an additional 11 international sea cruise ships with over 10,000 passengers and crew members. Thus, in the year 2023, Da Nang Port will welcome a total of 30 international sea cruise ships with approximately 30,000 passengers and crew members. The arrival of these luxury cruise ships to Da Nang Port signals positive prospects for the upscale tourism, leisure, and entertainment segments in the city. It's worth noting that in the past nine months, Da Nang welcomed over 1.6 million international visitors, a 5.9-fold increase compared to the same period last year.
Mr. Dương Đức Xuân, Deputy General Director of Da Nang Port, stated: "In 2023, we are striving to achieve all of our projected targets, with growth ranging from 3% to 5%. This is because 2023 is forecasted to be a challenging year due to ongoing global economic uncertainties, the Russia-Ukraine conflict, and fluctuations in oil prices. Most of the cruise ships we serve primarily travel within Asia, reflecting the spirit of the entire leadership team, employees, and workers at Đà Nẵng Port, as we continue to develop and strengthen customer trust with the support of local authorities and higher-level government departments."