Milk tea is one of the most favorite drinks in Viet Nam and Da Nang City. We can drink milk tea daily and of course, we do have a lot of big brands of milk tea. But do you know any local milk tea brands? Not only milk tea, but also summer fresh drinks, salt coffee, with traditional flavors as well. Let's try Bennee Salty Coffee – a takeaway coffee shop with a special drink.
About The Bennee Coffee and their slogan
Located on An Hai Dong 1 street, close to the beach, and also located in a peaceful alley, The Bennee Coffee is just a small takeaway coffee shop that is decorated with green color. Some green tiny chairs, and a small window but they do have good tasting drinks.
I was really surprised by their slogan that says: "Have you loved you today?". It is a sweet quote that reminds us to love ourselves today. I love these phrases so I gave Bennee Takeaway Coffee a chance. I stayed there, bought a drink, sat down on the tiny chair with my friends, and spent a short while appreciating myself and just chatting with my lovely friends.

I hadn't expected much but The Bennee Coffee gave me a big surprise with their drinks. They have some basic drinks on the menu. More than half of menu items are related to tea, and some of them are referred to as a signature. Last but not the least, their milk tea, was unlike any of the drinks I have ever tried before.
The Bennee Coffee and their drinks
1. Local Milk Tea
As a Vietnamese person, I adore milk tea and have tried a hundred different brands. I can state confidently that one of the good ones I have in mind is Bennee Milk Tea.
Whole-leaf milk tea is a favorite among Vietnamese people because it allows you to experience the full flavor of the tea leaf, followed by the richness of the milk that is sweet on your tongue. The bubble is yet an additional attribute that helped this drink's success. It was very soft, not overly sweet, and I loved how funny it made me feel as I chewed.
Jasmine Milk Tea: I tried this drink twice, but I wasn't too impressed. However, they smell fantastic. Perhaps you'll enjoy this if you have a sweet tooth and enjoy thick milk. In addition, because Jasmine Milk Tea won't keep you up at night, it can be an excellent option if you ever want to have milk tea after 5 pm.
Japanese Matcha Latte: I don't particularly enjoy matcha, but the waiter asked whether I would like a cup on a hot day, and I said yes. Although I had low expectations for this drink, it was so different from what matcha is in my mind. I asked the owner about the matcha, and they told me that it is an authentic matcha from Japan, which is why I loved it at first sip. You can actually taste the tea on your tongue, and it has a fresh matcha scent. It is also not bitter.
2. Summer Fresh Tea
Finding and drinking fruit fresh tea throughout the summer is the finest way to feel better on hot and exhausting days. My favorite time is right now since I can have a drink that is only available during this time.
Let's see what The Bennee Salty has to offer.
Strawberry Tea: In Bennee Salty Coffee, in my opinion, this is the best flavor. I believe they are using fresh strawberries because I can actually chew on some of the pieces and they taste just like the berries I can smell in the garden. To make the drink even more refreshing, they add more ice to the mixture of sweetness and a little amount of sourness. They also have a second choice if you want strawberry tea cream cheese that makes their tea taste better.
Salted-dry Apricot Jasmine Tea: Vietnamese people always drink Jasmine Tea much more frequently than other types of tea because it's flavorful and simple to drink, even for young children. This one has a flavor that reminds me a little of lemon juice because it's a little salty and I also can feel the sourness of the dry apricot flavor in it.
3. Coffee – Vietnamese traditional drink
Like other coffee shops, traditional drinks are a must.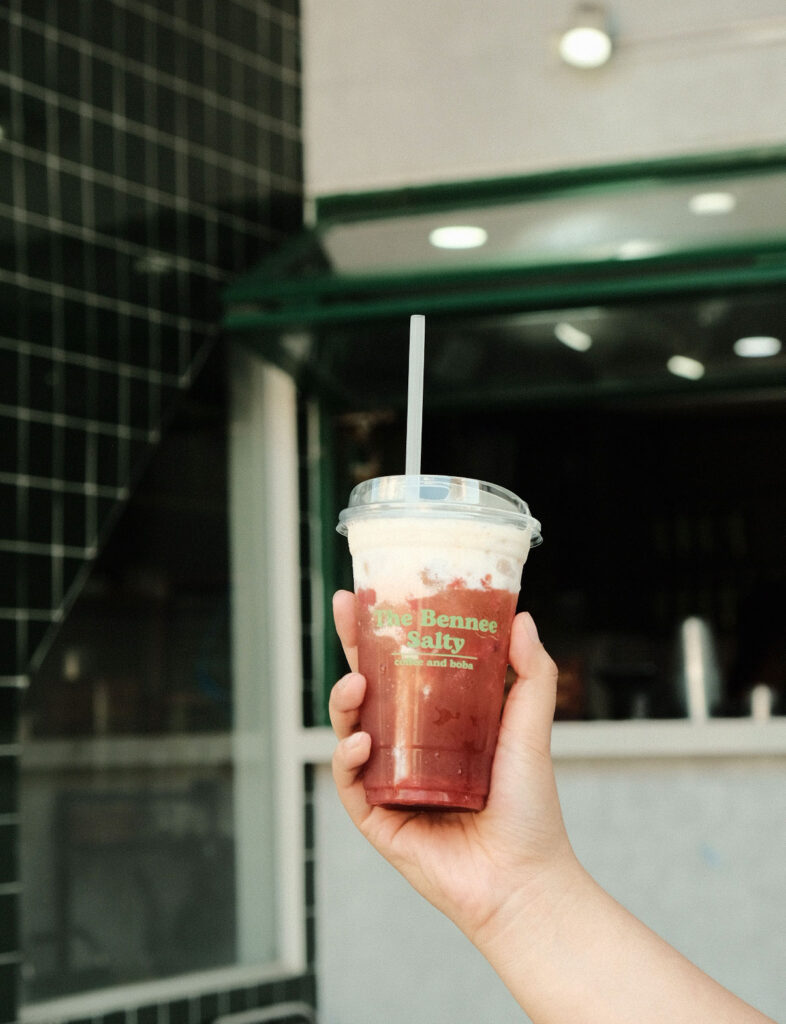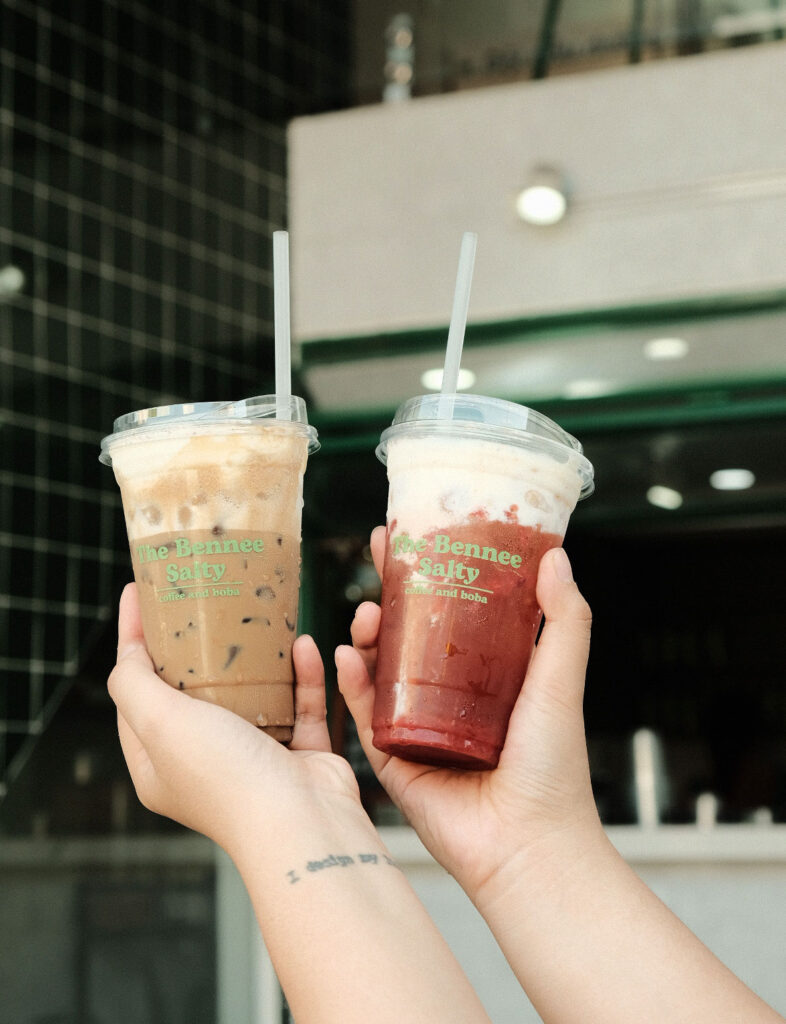 Salt Coffee
There are both milk coffee and black coffee on the basic menu. But being a local coffee shop in Da Nang, they also offer salt coffee. Every coffee shop has a unique taste for coffee. Others shops prefer things sweeter, while others like things more sour, and others adore harsh coffee flavors.
However, Bennee Takeaway Coffee uses Da Nang's well-known local coffee called Long Coffee which we absolutely love and are huge fans of. I can feel the slight bitterness of the roasted coffee beans. The way salt foam is made, which is fattening, salty, bitter, and slightly sour, is what matters most when applied to salt coffee.
Cream Cheese Coffee
Besides salt coffee, they also have another signature called "cream cheese coffee". This kind of coffee is not particularly new but just several shops have it. Maybe you want to try the new flavor. Because Viet Nam is a paradise of coffee, we also try to create a new taste of coffee to find joy. Besides the signature that we already know about salt coffee, egg coffee, or coconut coffee, I think Cream Cheese Coffee should be on your list.
In Bennee Takeaway Coffee, I can clearly see on the menu that almost all of the drinks they have use cream cheese. I think it may be their specialty. For example Coffee Cream Cheese, Jasmine Milk Tea, Strawberry Tea, Salty Coffee, Traditional Egg Coffee…
The Bennee Coffee just has a small space and a lovely window to serve takeaway coffee, so it's not really appropriate for staying in the drink. However, I also believe that ordering some takeout and staying in on a rushed morning or a lazy afternoon is kind of convenient.
Individuals have their own tastes, however, The Bennee Salty is definitely worth a try when you visit Danang City. I believe you will enjoy it if you give it a chance.
Let's taste The Bennee Salty, then leave comments below! 
Located: The Bennee Salty Coffee, 88 An Hai Dong 1 Street, An Hai Dong, Son Tra District, Da Nang.
Fanpage: https://www.facebook.com/thebenneesalty/
Time: 7 am – 5 pm
Price: 20.000 VND – 50.000 VND