Coming to Da Nang, one of the well-known coffee houses still preserves the traditional cultural traits of Vietnamese people in general and Da Nang people in particular. Trinh Coffee has maintained and preserved the traditional features, spiritual values, and long-standing memories of the old architecture based on the style of the existing old houses.
About Trình coffee
The most well-known and extensive, Trinh coffee is silently lying there with a beautiful blue bird symbol at Le Dinh Duong, a street that crosses the busy and overcrowded Nguyen Van Linh route of Da Nang. Simple but not dull, only two colors: white and blue, are extremely eye-catching.
Trình coffee on Le Dinh Duong street
Under the roof of an old wooden house, with a history of decades of being lived and preserved, If Trinh Coffee at Le Dinh Duong keeps old stuff about old memories of generations of 8x and 9x generations. Additionally, there is a location where the childhood belongings of so many young generations can be hidden away from black and white televisions, cassette adapters, and small tables and chairs from the era of grandparents and parents. With time, both the photographs and we have become tarnished.
An old 3-room house, wooden wardrobe, tables, chairs, and decorative things help bring back memories of the old house from before the year 2000. Trinh Cong Son's songs and mornings are enjoyed in the garden while hiding in a tiny alley that offers relief from the noise of passing vehicles and the busy street.
Trình coffee on Nguyen Huu Tho street
The coffee shop at Nguyen Huu Tho is a spacious, open, and cool outdoor green area. The same tiny tables and drinks were served, but there were green plants all around. The entire inside of Trinh Coffee is covered in plants, with just a hint of wind and daytime sunlight.
The Trình's Gate is another instance of an ancient Vietnamese settlement that grew up in the shade of a banyan tree at the center of the settlement.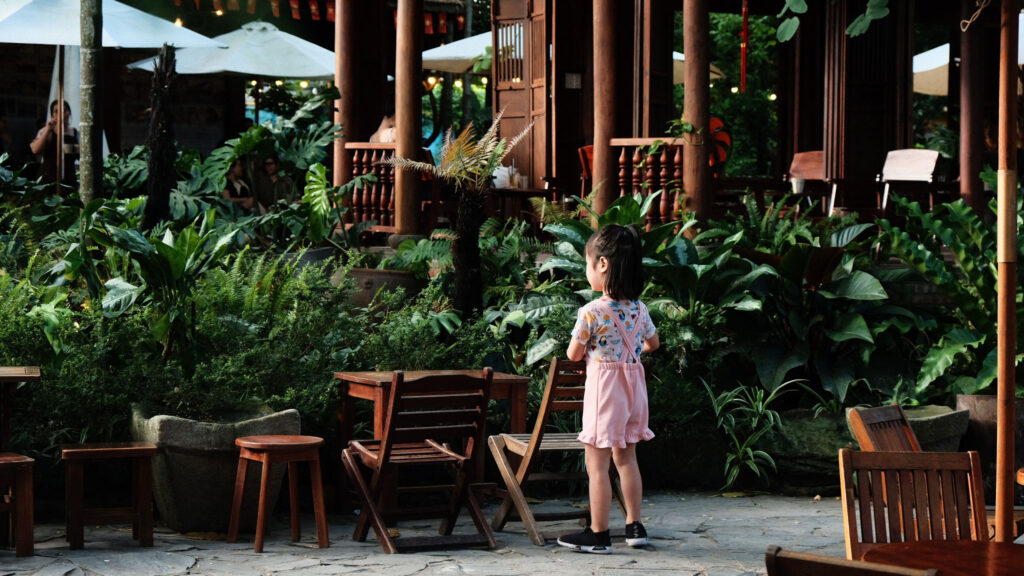 The area of Trinh Coffee's Nguyen Huu Tho campus is the largest of the three facilities and is constructed with a garden area. The center of the garden, the right house, and the last house compensate for its three different sections.
A historic Hoi An home is situated squarely in the center of the spacious area. Trinh Coffee rebuilt the house while maintaining the original architecture in order to keep the long-standing customs and essentially spiritual principles of the building. Despite repairs and renovations, the home still has some of its original features.
The main stage of the "Tình như xưa" (English – Love as Old) acoustic music events is also here. In the center of a serene and calm setting, a little, tiny stage appears. One of the best things to do throughout the weekend is to attend this event.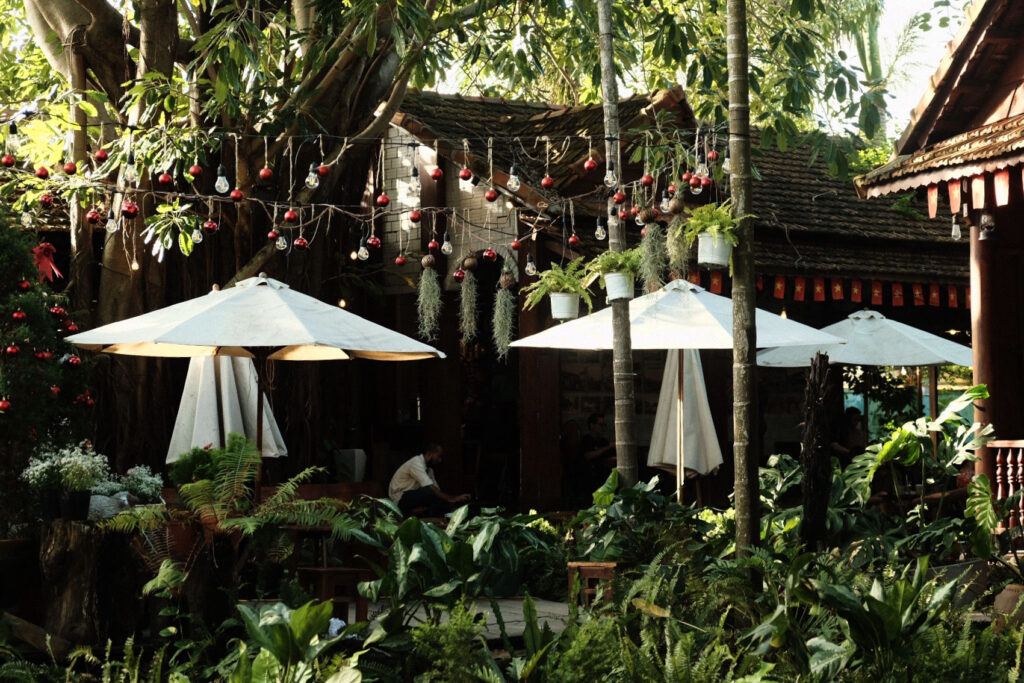 On days when you want to read, locate a quiet but interesting place to study, and work, the area to the right is ideal. The back room is great for having coffee dates with friends. Collect under the little tables and sit close to one another.
Trình coffee on Phạm Như Xương street
In Le Dinh Duong and Nguyen Huu Tho, two of the old, cozy coffee shops were constructed, while Pham Nhu Xuong's coffee shop involves a significant transformation. Trinh Coffee wants to provide its customers with something fresh and free by portraying a new, brighter, and more modern view than the other two businesses.
Trinh Coffee, which presents the impression of a cafe beneath a large, white villa, actually provides its customers with a much larger, more modern environment together with a garden in the yard.
Flavorful drinks with ingredients from the Central Highlands
All of Trinh Coffee's signature drinks are crafted with fresh, high-quality ingredients like avocado, coconut, and special tropical fruits. Even though Trinh Coffee receives a large daily customer base, maintaining and maintaining the source of great drinks and ingredients has made Trinh Coffee's customers loyal regulars, and frequent visits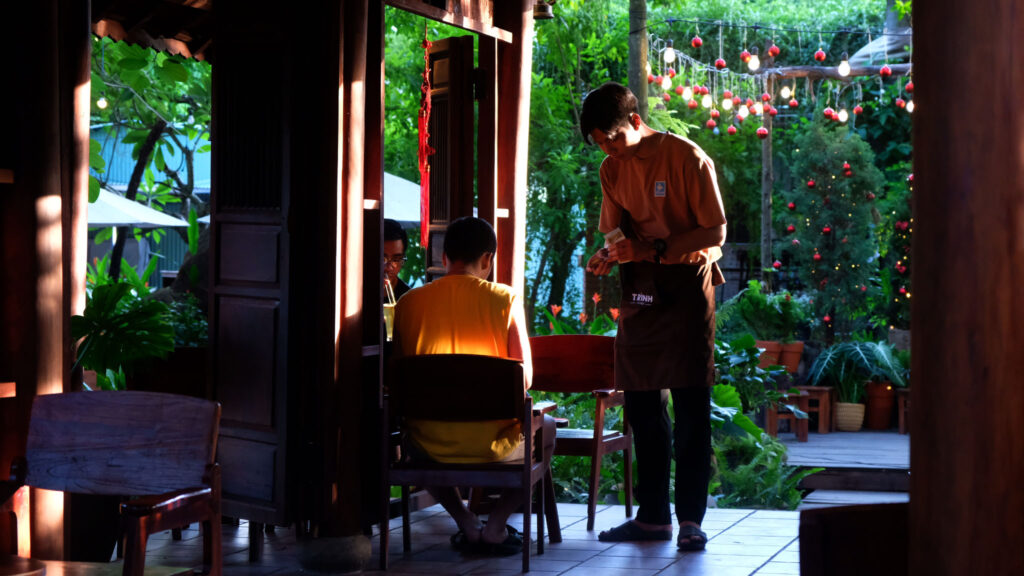 One regular drink that is only offered at Trinh Coffee is "avocado coffee" The drink's materials are imported from Dak Lak, Vietnam, the land of the best avocados, and it is served all year round.
The drinks at Trinh that involve avocado and coconut are always committed to using high-quality ingredients without contaminants and are delivered every day.
The Central Highlands is not only the nation's greatest coffee-growing area and the home of the avocado. Trinh Coffee, therefore, takes great care in choosing and processing the coffees from this location. Trinh Coffee provides customers with cups of freshly roasted and ground coffee as a result.
Additionally, Trinh Coffee is where music evenings for everyone to enjoy are organized.
The coffee program not only provides tasty drinks, but also a location where you can experience the freshness of a tranquil garden in the middle of a busy and noisy city center. Additionally, it is where you may still find remains of Vietnamese culture from earlier times. It will be the peaceful early mornings to begin a new day or the afternoons spent sitting in Trinh Coffee's garden. When arrived in Trinh, he was told legends and exposed to the timeless music of Trinh Cong Son. For those seeking inner serenity, everyone creates a tranquil environment.
Visit Trinh coffee in:
Fanpage: https://www.facebook.com/trinhcaphedn
Address:
22/4 Lê Đình Dương, Hải Châu, Đà Nẵng
34/4 Nguyễn Hữu Thọ, Hải Châu, Đà Nẵng
100/19 Phạm Như Xương, Liên Chiểu, Đà Nẵng