Are you looking for somewhere to be more productive and enjoy an amazing cup of coffee? There is a following must-try list of coffee shops you might be interested in when you need a convenient place to work in Da Nang.
1. Kóta Cafe
Address: 80 Pasteur Street, Hai Chau District, Da Nang
Open hours: 6 am – 10 pm
Kotá Cafe is a coffee shop designed in a bold "Mediterranean" style with a white house and blue doorways. With a diversity of food and drink at affordable prices, the coffee shop is always preferable for young people to choose to complete their work as well as relax with a lot of exciting activities with friends. The shop also has a list of mouth-watering pastries, juicy smoothies, and other snacks that support your working day more efficiently.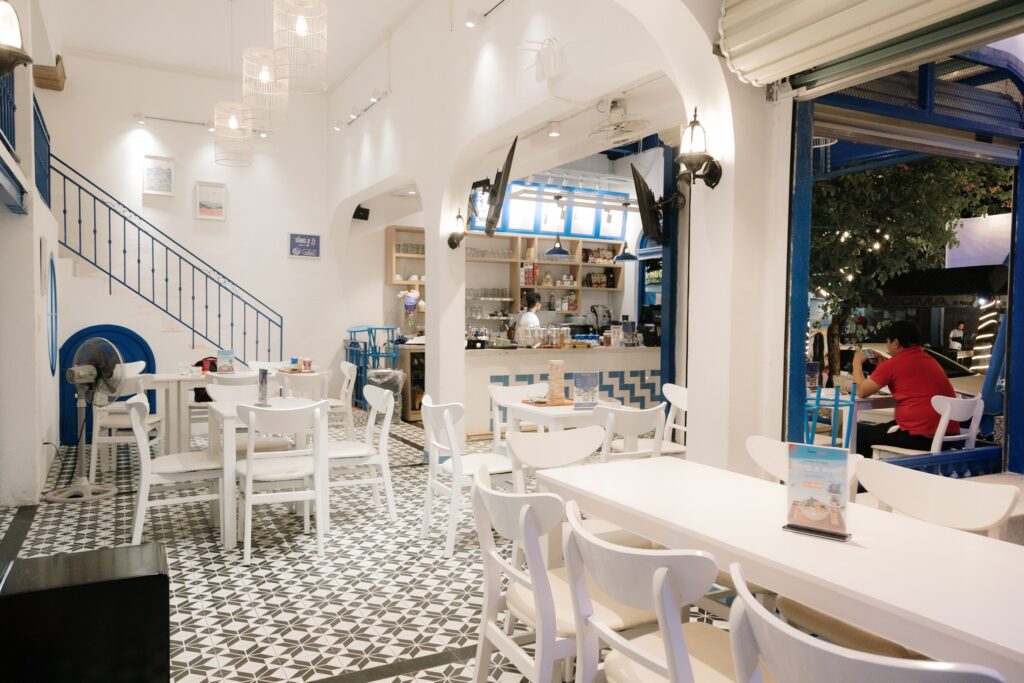 2. Moss Coffee
Address: 02 Phan Boi Chau Street and 140/2 Hai Phong Street
Open hours: 6 am – 10 pm
If you are a coffeeholic, you cannot miss this classic spot on one of the busiest roads of the city. Come to Moss Coffee, you would immerse yourself in all kinds of signature coffee drinks at the recommendation of the enthusiastic and knowledgeable staff. For those who prefer to start full-energy mornings, we recommend trying "Salted Coffee", one of the most irresistible drinks in the shop. You would be hastily intrigued with a wonderful flavor. In addition, the shop also has other eye-popping drinks such as two-story orange juice, Vietnamese egg coffee, and iced cappuccino at super cheap prices.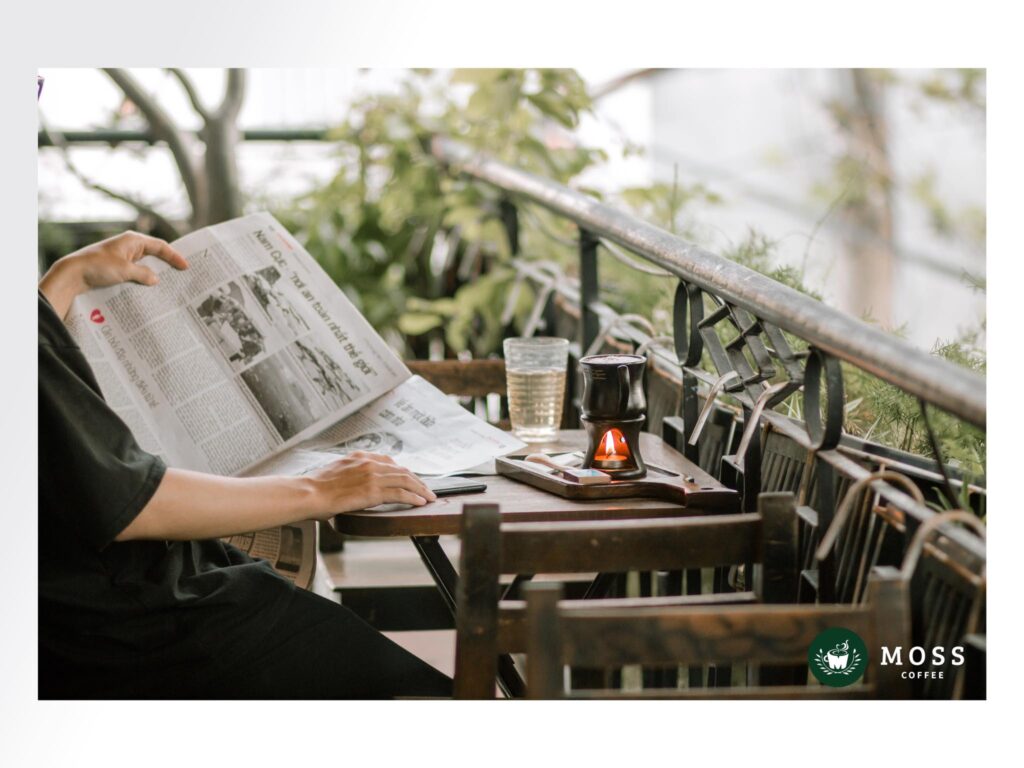 3. The Cups Coffee
Address: 233 Nguyen Van Thoai Street; B20-21-22 2 Thang 9 Street; 72 Ham Nghi Street; Tran Hung Dao Street and B2-4 30 Thang 4 Street
Open hours: 7:30am – 9pm
It is one of the most popular coffee chains in Da Nang. Located in prime places, The Cups Coffee is a magnet for laptop-toting people. With the spacious and airy view, the shops also meet all kinds of customers' needs with complimentary WiFi, cooling air conditioning, and enthusiastic staff. In addition, this coffee chain attracts customers with a fascinating and diversified menu. If you want to boost your mood while completing your remote work, why not choose a cup of rich coffee and mouth-watering pastry from this coffee chain?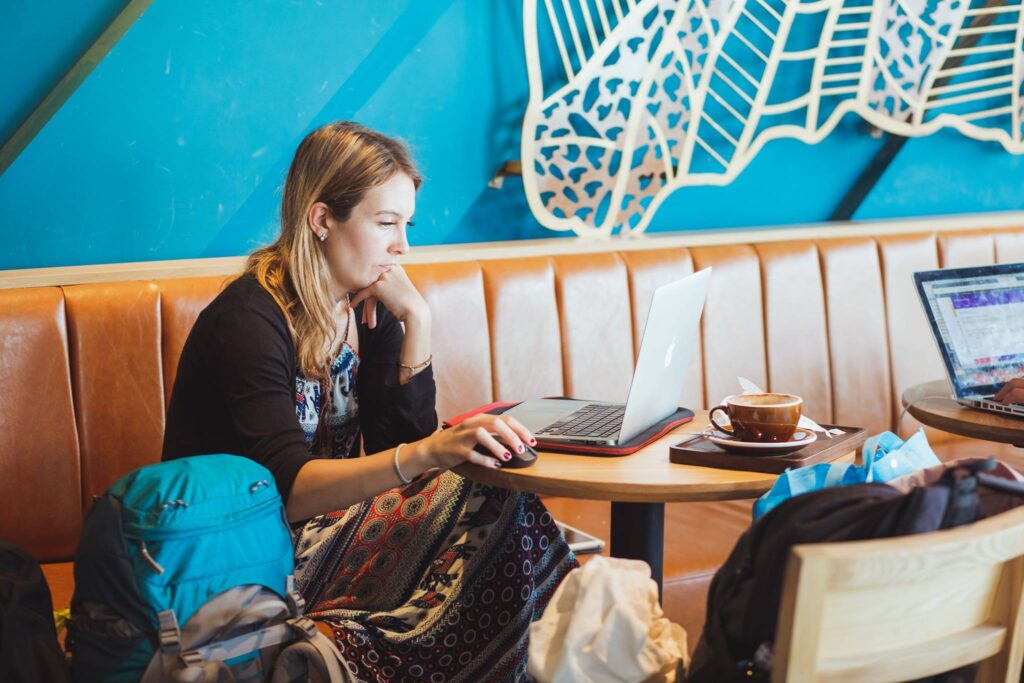 4. Gardénia – Coffee n Bakery
Address: 43-45 Le Hong Phong Street
Open Hours: 6:30 am – 10:30 pm
The boiling hot days are coming, and if you wonder where to maintain your workflow, let's head to Gardénia – Coffee n Bakery. This lively coffee shop has a diversity of beverages such as all-kind coffee, cold juices, to-go items, seasonal sets, and delicious pastries, of course. In addition, the shop constantly creates more new drinks that are pleasing to your eye and your taste. The staff is friendly and always gives a smile to you. Furthermore, it offers free Wi-Fi and air conditioning, so you could focus on your laptop work while indulging in your favorite cup of coffee.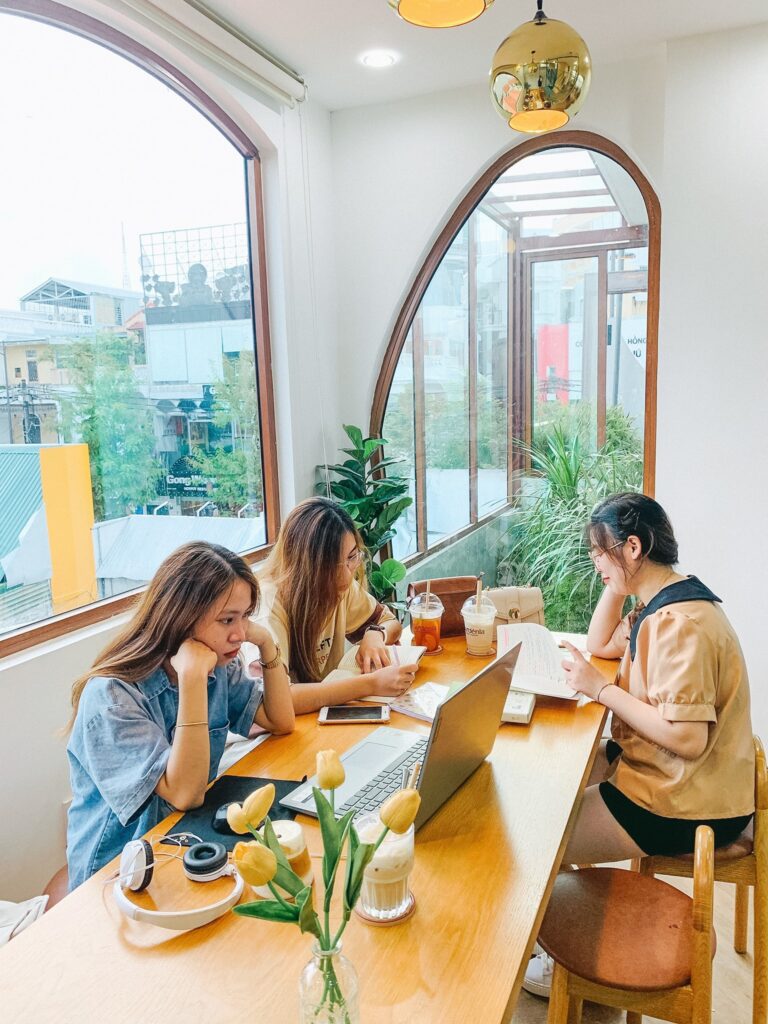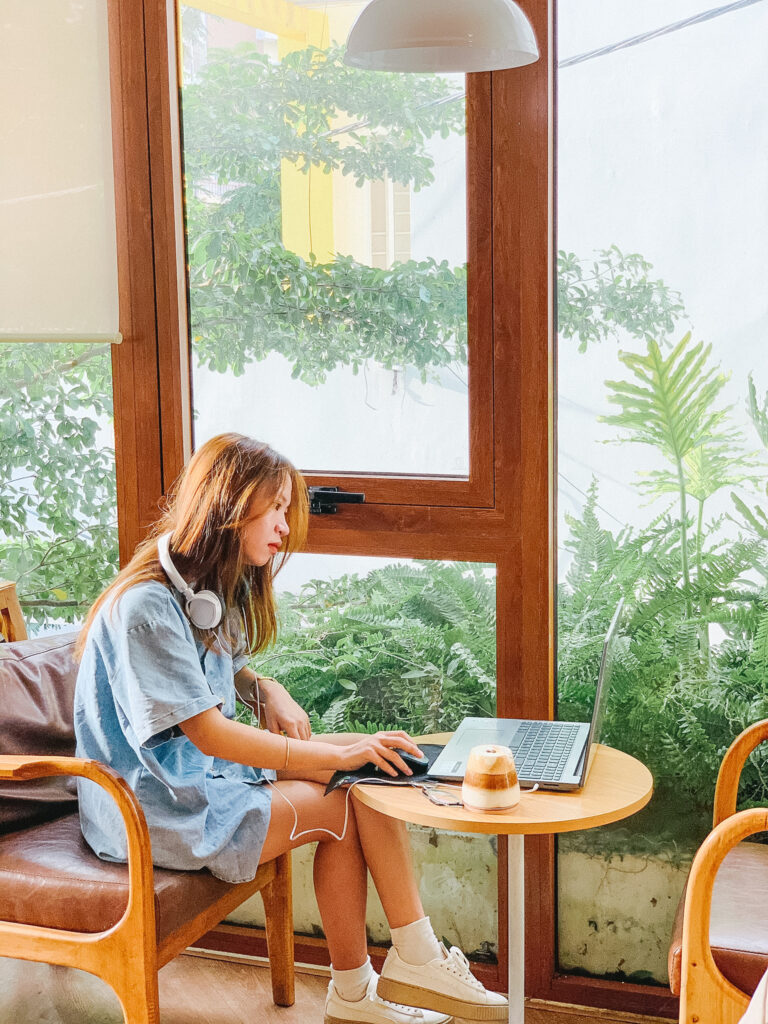 5. House coffee
Address: 101 Ung Van Khiem Street
Open hours: 7 am – 9 pm
Located in one of the metropolitan areas of the city, House Coffee is always a preferable choice for freelancers, and college students. It is decorated in a tiny garden style with a lot of plants, making a refreshing and peaceful atmosphere. Take a sip of coffee, you might officially start a fully-energized day to fulfill your work with the most productivity. Furthermore, the plant-covered coffee shop also serves yummy snacks and creative drinks such as "Sicula Tiramisu", "Tropical Tea" and "Coconut Coffee" that you could alter daily up to your taste. It provides free WiFi and air conditioning, so you just come in, grab a seat and enjoy your wonderful day.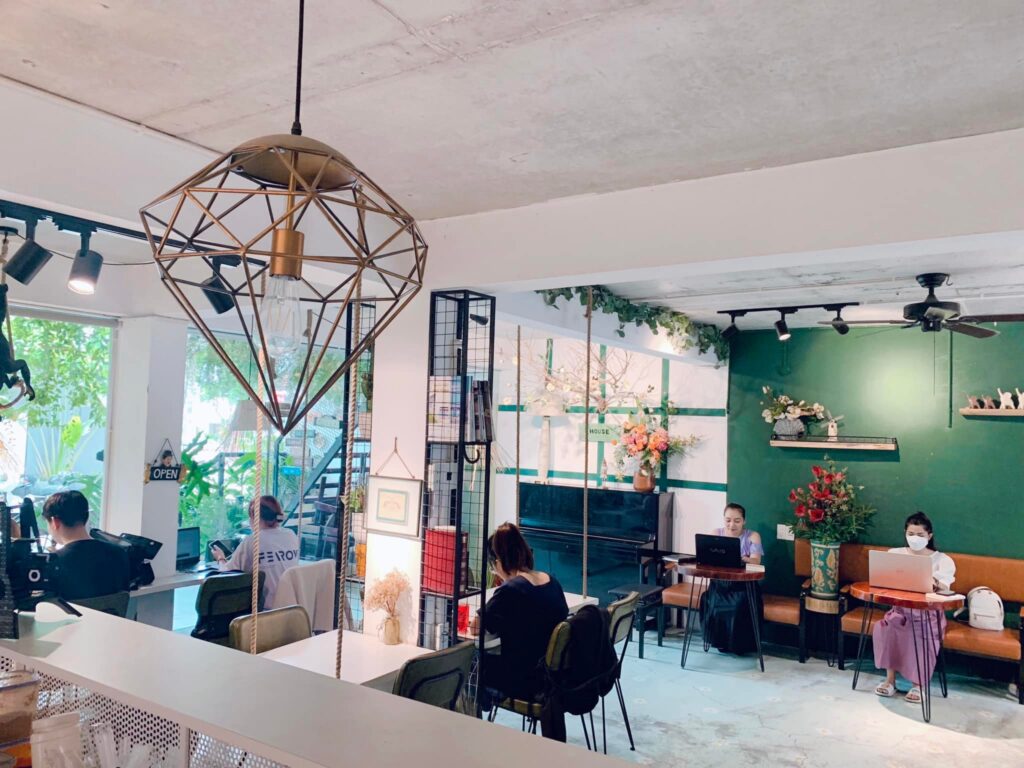 6. Flower Cafe & Beverage
Address: 72/27 Nguyen Van Thoai Street
Open hours: 6:30 am – 9:30 pm
Flower coffee is one of the favorite coffee shops for the youth in Da Nang. Everything appears elegant and smooth with the main white decor tone paired with the timber brown hue and the minimalist style. A pleasant, spacious, and comfortable environment like this not only improves your concentration but also encourages your creativity, making you study and work more efficiently. Furthermore, it offers a variety of delicious drinks and foods as well as complimentary Wi-Fi, which you might find hard to leave.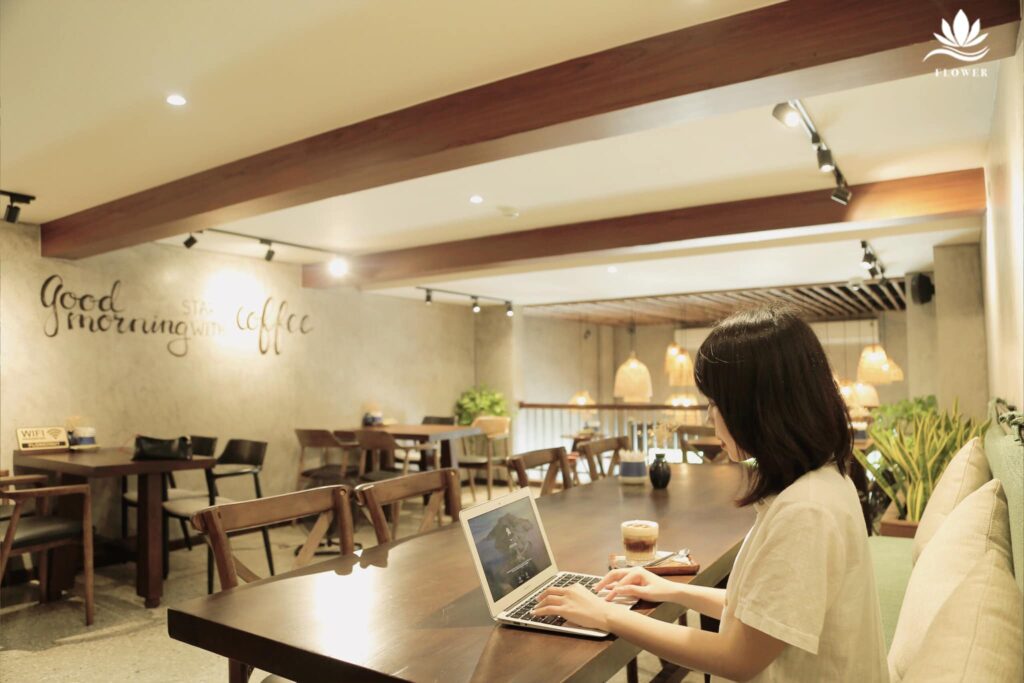 7. GRAM – Homebakes & Cafe
Address: 185 Chau Thi Vinh Te Street
Open hours: 7 am – 10 pm
The little coffee shop is well worth coming through for anyone who wants to camp out with a laptop. Taking advantage of an abundance of natural light, Gram coffee offers a refreshed environment where you could crack out your work and enjoy a cold brew. Not to mention that its delicious homemade pastries would fill your energy for constructing new ideas, completing work tasks, or studying for the next exam. It also provides free Wi-Fi, air conditioning, and other interesting discounts that you cannot miss when you get here.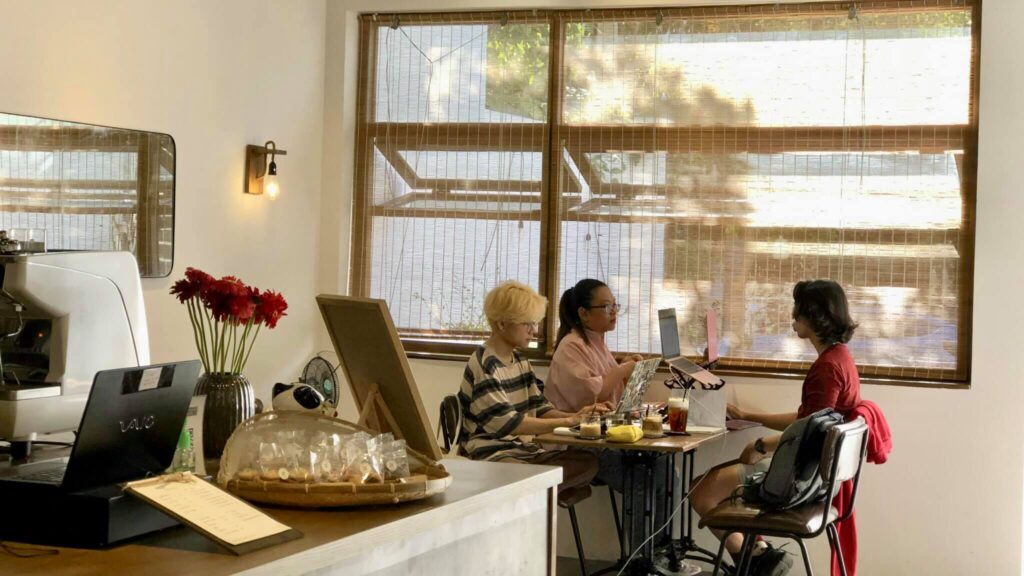 8. Fika 84 Coffee
Address: 84 Nguyen Son Street
Open hours: 6 am – 9 pm
The meaning of the name of the shop is originally from Swedish, which means let's slow down and enjoy your life. Thus, there is something special about this cozy coffee shop – from the moment you go in, it is like visiting a little cottage from a fairy tale you read as a child. The shop is decorated with many plants making a refreshing atmosphere in the outdoor courtyard. When you go upstairs to get to the main room, you might get impressed by the large bookshelf on the wall with hundreds of amazing books. It is one of the popular coffee shops for college students getting well together for a study group. Moreover, Fika 84 Coffee serves "Banh mi" (Vietnamese sandwiches), a list of eye-popping drinks at reasonable prices, plus the WiFi is free and the staff is always friendly. If you feel a bit of burnout during deadline time, they will find a way to cheer you up and make you comfortable.