Another interesting and attractive choice is changing the mood for the weekend or looking for a place with handcrafted or vintage items. Although they don't happen often, Da Nang's café markets are a great location to meet local vendors, find amazing eco-friendly products, and connect with the community – a group of young individuals conducting business. Get to know these unique markets with Danang Leisure!
What is Bazaar?
The bazaar is a relatively frequent type of market across Vietnam, with the large, crowded, and most regular markets in the Northern highlands being regarding the merger of the cultural spirit of the locals – ethnic minorities in the highlands. In Vietnam, this is likewise seen as a long-standing culture.
The market began to exist when individuals had an abundance of income and began to exchange it for resources and necessities. Small groups initially, followed by tens and hundreds of additional participants who eventually made up the market.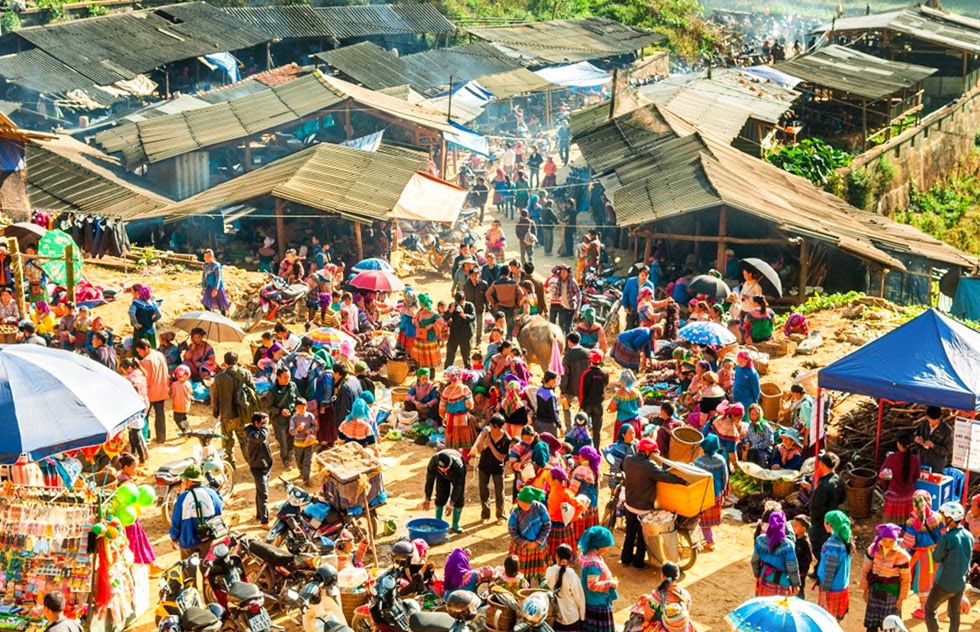 However, as the economy grew, more and more cities, supermarkets, and major markets were developed, which caused the fair to progressively disappear and only be seen in a few locations now.
Even so, a market is beginning to emerge in Da Nang as a method to maintain traditional traditions and unite startups and small enterprises. Additionally, these unique markets appear to be influenced by historical markets, producing a new setting where individuals can exchange items in just one to two days. And this is one of the activities that both young people and foreigners enjoy doing.
Bazaar in Da Nang
Bazaars in Da Nang are hosted on a smaller scale than typical markets, which serve as places for ethnic minority exchanges, trade, entertainment, and cultural interaction. These markets frequently focus on themes like handcrafted items, recycled goods, used goods, and environmental protection. Therefore, the market participants here are typically young, inexperienced, and small.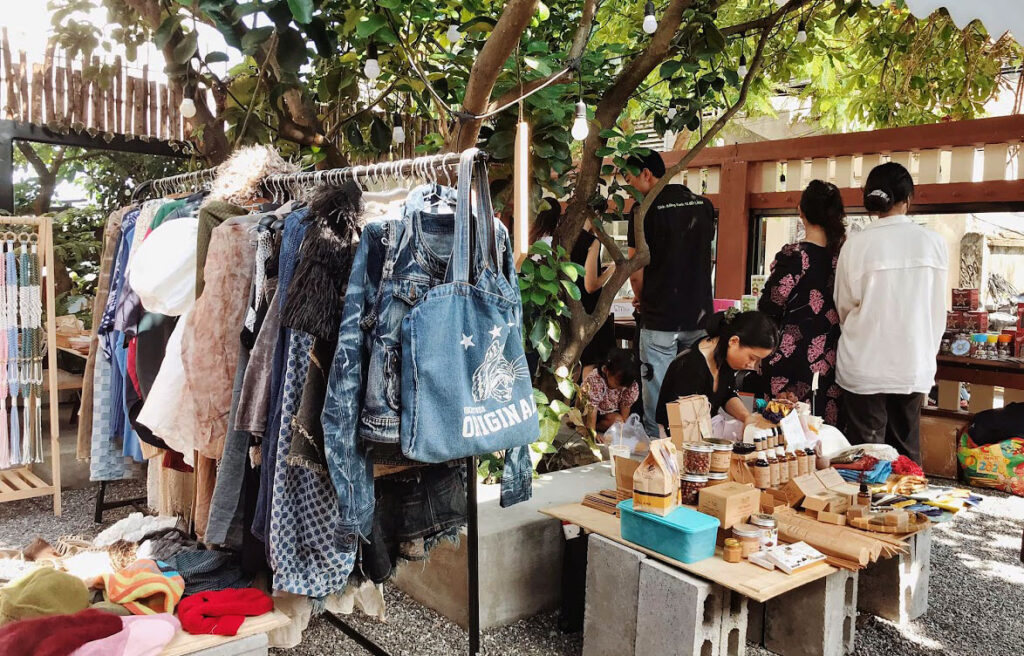 Da Nang does not have markets regularly or a set timetable for any particular place. There are occasionally one- or two-day markets that take place on weekends or in the middle of the week. Depending on the location, the markets take place once a month or once every two months.
What can you find in the Bazaar?
In addition to going to the bazaar to buy and eat, participating in it is a function of promoting if you run a small business and want to expand your customer base with the goods you sell or just a chance to when renting a market vendor doesn't cost too much money. Simply update the market calendar, sign up for a vendor, and then all you have to do is properly prepare your merchandise while you wait for market day. (A summary of the market's location is provided at the conclusion of the article.)
The market will take place with a different theme at each location, during each season of the year. It can be a market system where you can find almost anything, an environmental market where you can buy recycled goods, a secondhand market where you can buy handmade goods, etc.
The bazaars will often prioritize handmade and environmentally friendly items. You can absolutely find secondhand clothes, handmade body mist, perfumes, other handmade products like macrame, hand-painted postcards, homemade necklaces, and bracelets,… Or you can taste and try some delicious exotic cakes. Or book markets, cakes, and pet-related things. You can find a lot of things in these markets.
Business owners always change according to markets. They provide numerous styles and special products. From adorable and charming to smart and innovative recycled from the old to the new. Or brand-new goods will emerge.
For customers to purchase the product at the market, the product is frequently discounted at market meetings by between 10% and 20%. Maybe this is also a chance for a sale!
What are the special things in the bazaar?
Connecting place: In addition to being a market where only goods are bought and sold, it is a great location for meeting other young people who are running successful businesses. When it comes to making things by hand, baking, and cooking, you can find individuals who share your interests and passions. Alternatively, you can impart commercial and product development knowledge to one another.
Give small businesses priority: If you are just starting a business with your products, the market is one of the best ways to expand your consumer base at a reasonable cost. Due to the check-in of young people purchasing and promoting the goods at markets, the product can also be seen on more social networks.
Protecting the environment: As a means for youth to show that they are concerned about the environment. To promote green living, used, recyclable, and environmentally friendly products are frequently found in the local markets. In addition, using paper bags is always preferred over using plastic bags in this community.
Opportunities for exchange and trade: This is an opportunity for stores to bring their products to customers or exchange goods with each other.
So where to go to the market?
There are a few places where market gatherings will become regular. Here are the locations, by popularity.
1. Dune 45, 02 Thi Sách, Hải Châu, Đà Nẵng
One of the most regular markets is Dune 45, which typically takes place once a month during the first week. Additionally, the themes are unique and are frequently modified to suit each market. The events that Dune 45 has planned include a Second-hand Book Market in November, Self – Care Flea Market in October, and An Autumn Market in September,…
2. Raw Coffee, 28 Mỹ Đa Đông 12, Ngũ Hành Sơn, Đà Nẵng
3. Đông Dương Coffee, 90/26 Trần Phú, Hải Châu, Đà Nẵng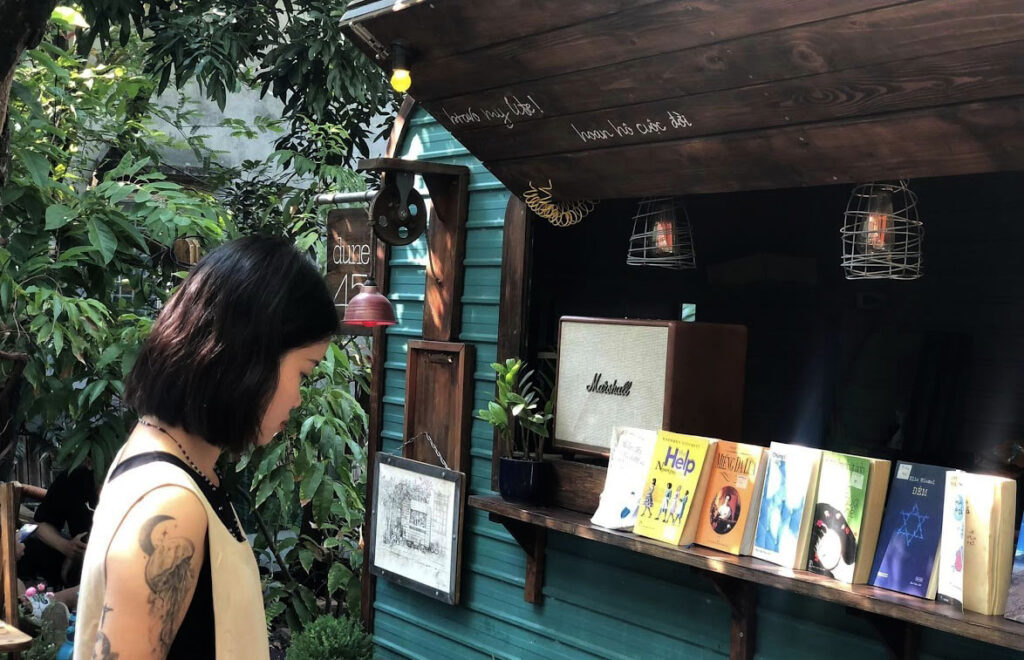 The market opening times for Dong Duong Coffee and Raw Coffee are flexible. In each market, these two locations continue to attract the most visitors. The market opening schedule always is flexible and followed by the seasons of the year, so you can check the fanpages of these places to find the latest information!
The practice of selling at markets is still new in Da Nang and has just become popular in the past one to two years, so the size will not be very huge and it will typically only be known to a small group of people who are interested.
Visit these small marketplaces as soon as possible!