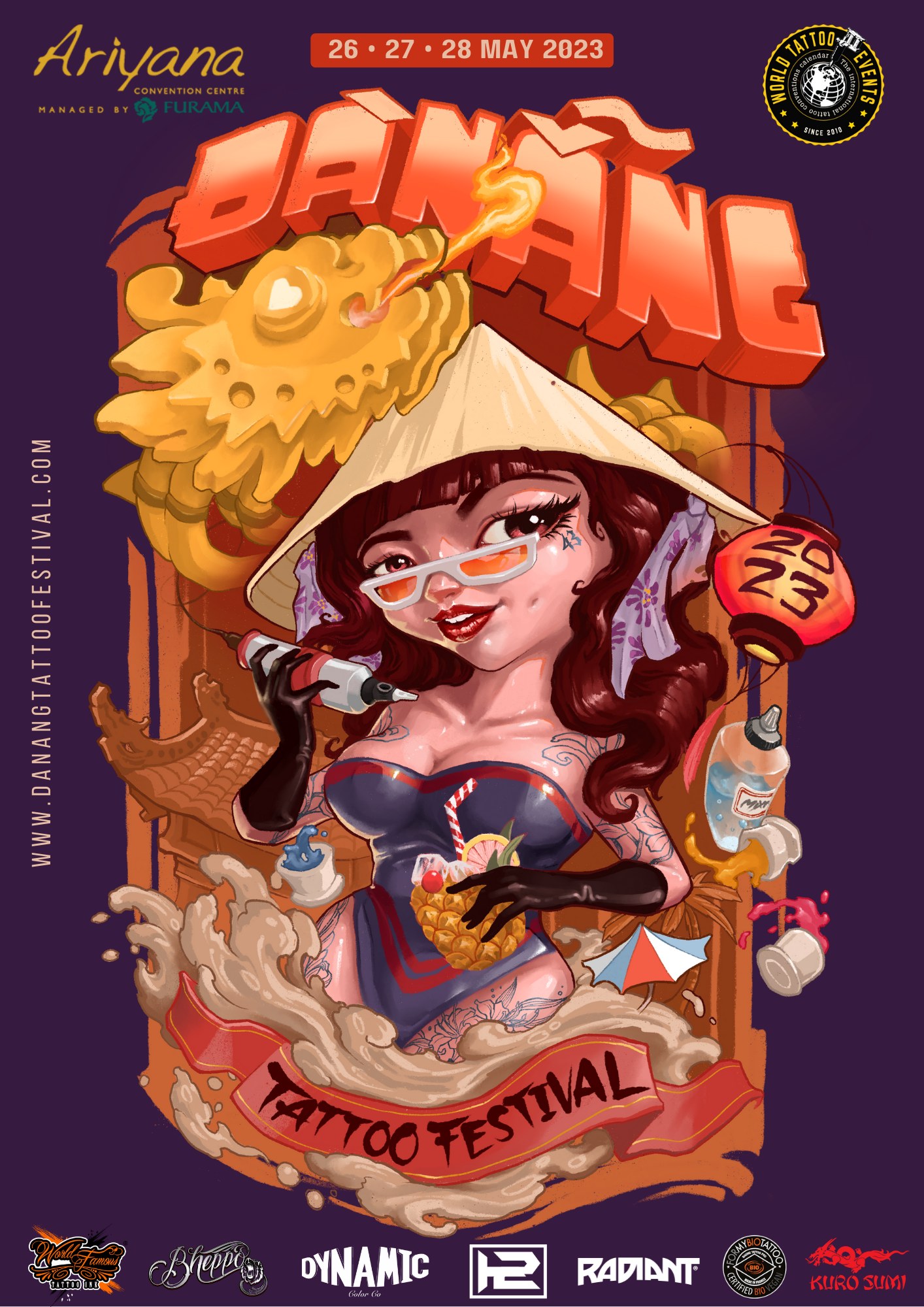 Da Nang Tattoo Festival
TIẾNG ANH/ENGLISH:
Welcome to the 1st International Tattoo Festival in Da Nang ️ (Vietnam) on the 26th, 27th and 28th of May 2023.
During the 3 days of the convention, we will bring together 120+ of the most talented Vietnamese & international tattoo artists, along with special guests from all over the world, tattoo contests, tattoo seminars, art exhibitions, music shows and live entertainment!
"Simply put, this event aims to place the beautiful and sunny city of Da Nang on the map of international tattooing".
The event will be hosted at the stunning Nesta Hotel which is located in front of the Ocean, and offers a truly exceptional setting for a tattoo convention at the highest level in Vietnam.
BOOTHS SOLD OUT!!
See you soon in Da Nang
!!
—————————–
TIẾNG VIỆT/ VIETNAMESE:
Chào mừng các bạn đến với Lễ hội xăm hình đầu tiên tại Đà Nẵng (Việt Nam)! Sự kiện sẽ diễn ra trong 3 ngày 26, 27 và 28 tháng 5 năm 2023.
Tại 3 ngày này của sự kiện sẽ có sự góp mặt của hơn 250 nghệ sĩ tài năng đến từ trong nước và quốc tế. Không những vậy sự kiện còn có sự tham gia của các khách mời đặc biệt từ các quốc gia khác nhau trên thế giới, sẽ có các hạng mục thi xăm hình nghệ thuật, các hội thảo, triển lãm nghệ thuật, các chương trình biểu diễn ca nhạc giải trí..
Nói một cách đơn giản, sự kiện này còn muốn giới thiệu đến bạn bè trong nước và quốc tế đến với thành phố Đà Nẵng xinh đẹp hiền hoà.
Lễ hội xăm hình Đà Nẵng sẽ được tổ chức tại Khách sạn Nesta nằm ngay trên bãi biển Mỹ Khê, một trong những địa điểm tổ chức đầy đủ các yếu tố tầm cỡ chuyên nghiệp tại Việt Nam.
Để đăng ký tham dự trải nghiệm sự kiện, các bạn vui lòng đăng ký tại đây: https://www.danangtattoofestival.com/vi/booths/
Hẹn sớm gặp các bạn tại thành phố Đà Nẵng xinh đẹp!